SCHOTT® LightView packages
Hermetic packaging components for augmented reality (AR) aim to transform the experience from bulky and unwieldy to sleek and effective. Specially developed for RGB lasers and MEMS mirror packages, SCHOTT® LightView miniaturizes and enhances opto-electronic performance for AR light engine systems.

The technical challenges for augmented reality
Augmented reality (AR) is widely accepted to be one of the most exciting technologies in development today, opening up a range of opportunities for businesses around the world. But for AR to reach its full potential, there are a number of technical challenges to overcome.

One of the main challenges is achieving a broad colour gamut and high resolution for image projection, which will drive business and consumer interest. Since AR technology will be used both inside and outside, high brightness will be required to provide effective contrast alongside the efficient coupling of light to the waveguide. Both factors have direct impacts on battery consumption.

In addition, sleek form factor is vital if consumers are to embrace and invest in the technology. However, existing packaging solutions are bulky, resulting in undesirable large form factors for end devices in many cases.
SCHOTT® LightView Packages offer effective solutions for AR challenges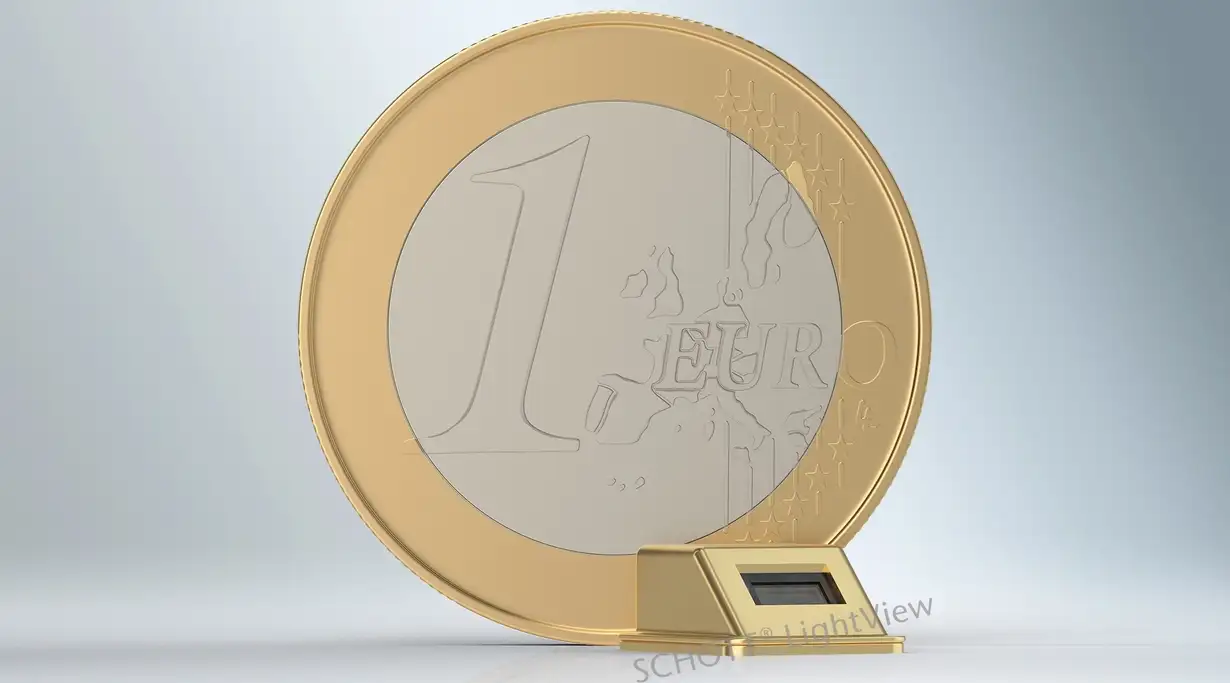 1/3
Miniaturized and integrated form factor
The innovative side-emitting cap and SMD base reduce the footprint of the entire light engine module. A miniaturized and integrated solution enables the laser-based light engine to meet the size requirements for the end device.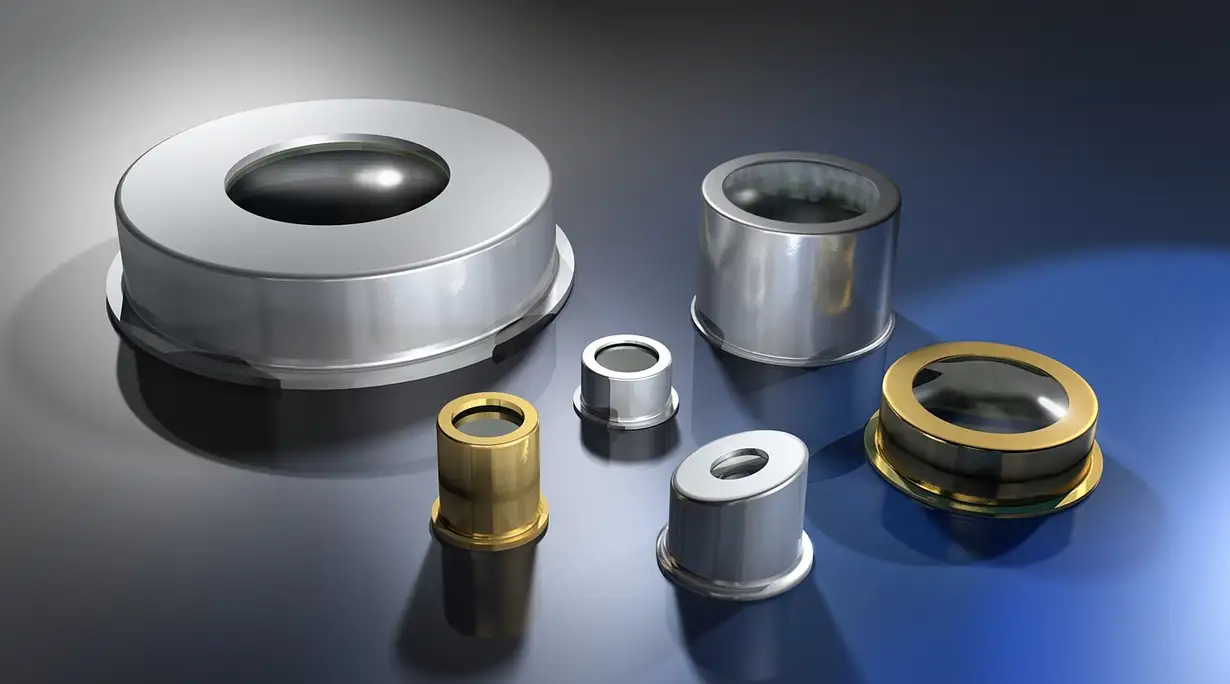 2/3
Exceptional opto-electronic performance
SCHOTT optical glasses, lenses, and windows are developed and processed to an extremely high quality standard for light engine systems, with customized glass window sizes and angled windows both possible. Special treatments, such as AR coatings, can be applied to achieve even higher transmission, while the flat base with flushed pins can be soldered in a typical SMD style.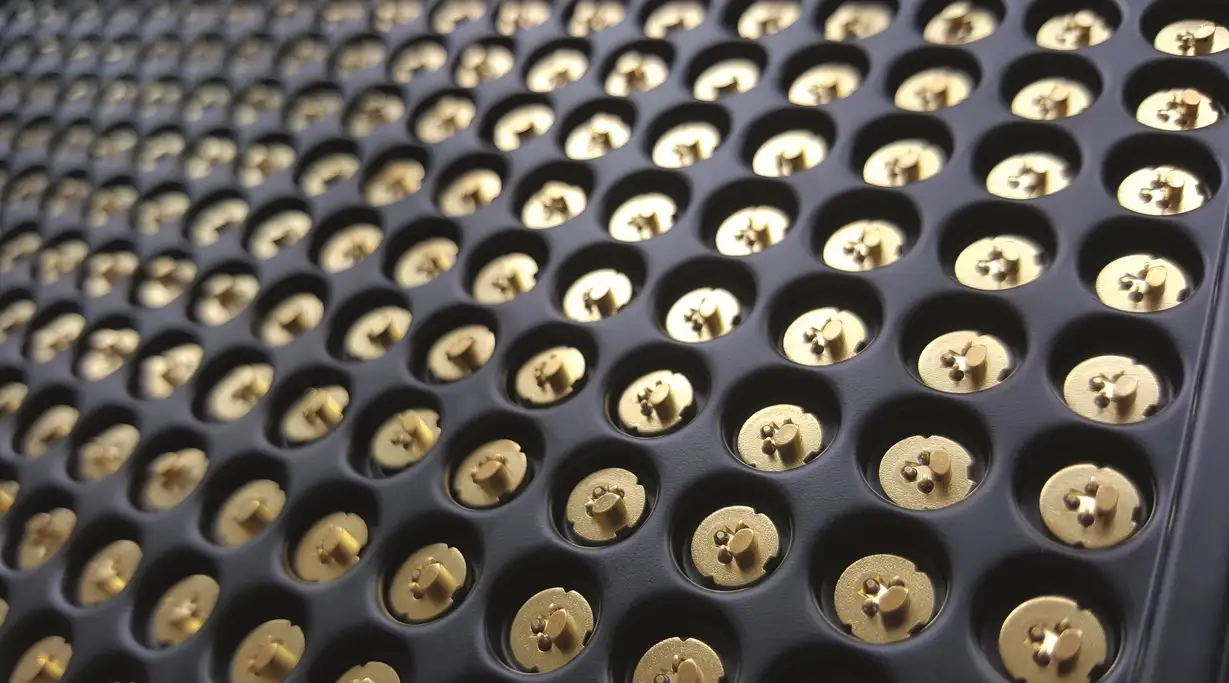 3/3
Superior design and volume production capability
SCHOTT is the world leader in hermetic packaging of high-volume electronics, including ignitor headers, transistor outline packages, quartz, and many others. With vast experience in glass-to-metal sealing, SCHOTT designs highly innovative, cost-effective, and scalable solutions.
The benefit of experience for augmented reality
SCHOTT has utilized its long-standing experience in glass-to-metal sealing to develop innovative packaging solutions for RGB laser chips and MEMS mirrors in augmented reality applications.
SCHOTT® RGB LightView Package
The SCHOTT® RGB LightView Package enables the adoption of laser-based light engine technologies for augmented reality and HUD applications. Hermetic encapsulation protects the sensitive RGB laser chips to enable high brightness and image resolution. Other advantages include:
Three-times form factor reduction compared to individual TO cans.
Hermetic encapsulation that increases the reliability of RGB laser chips.
Cost-efficient, localized joining of metal base and cap.
Excellent optical properties through the use of SCHOTT's in-house optical glass.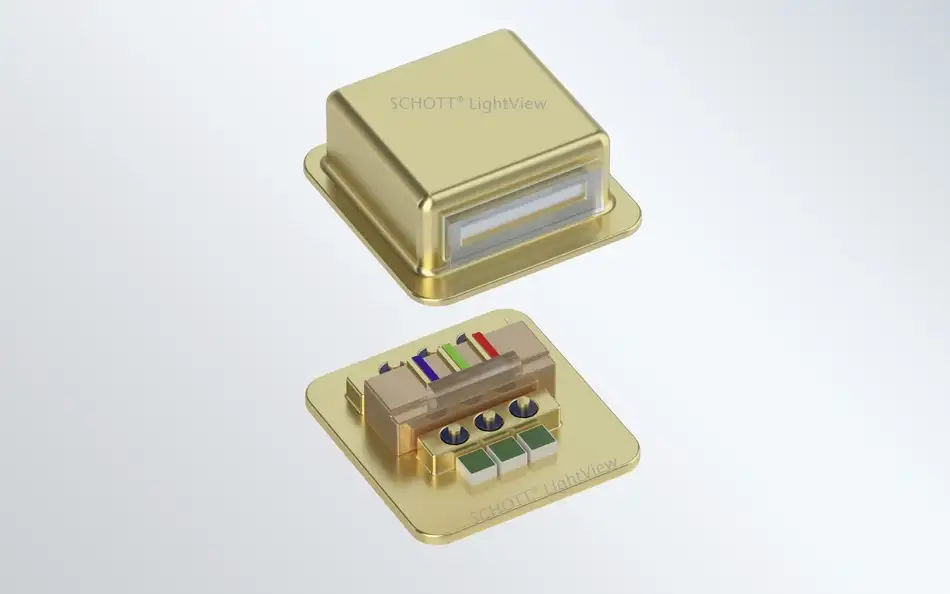 SCHOTT® MEMS mirror LightView Package
Offering hermetic vacuum packages for MEMS mirrors, the SCHOTT® MEMS mirror LightView Package provides a range of benefits:
Wider scanning angle and lower power consumption in a vacuum environment.
Reduction of back reflection through angled window concept (lesser ghost images).
Moisture and dust protection.
Readily available technology for scalable production.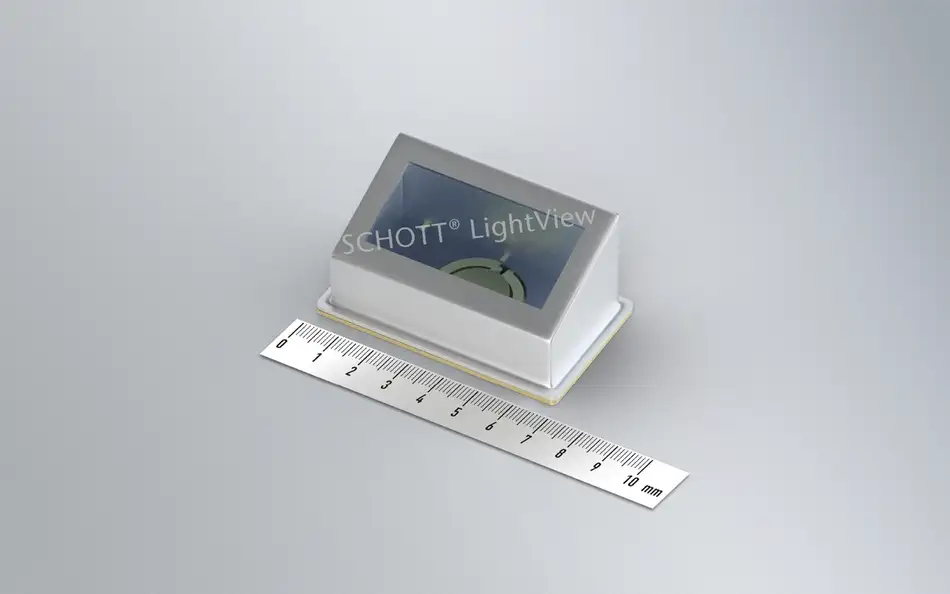 Key features
SCHOTT® LightView packages offer a number of features for the protection of sensitive electronic components in AR smart glasses, as well as the enhancement of opto-electronic performance in light engine systems.
Small form factor
A thickness of less than 2 mm is possible, making the components ideal for a slim package.
Superior reliability and performance
Thanks to their true hermetic design, SCHOTT® LightView offers hermeticity of less than 10-8 mbar l/s.
High window transmission
SCHOTT's in-house optical glass provides excellent optical performance, with the option of an AR coating.
Excellent thermal properties
The packages offer exceptional thermal conductivity of more than 40 W/mK.
Customized designs
Design options include a range of sizes, pin numbers, materials, and geometry.
Non-aging materials
The use of inorganic materials during manufacture results in a very long product lifetime.