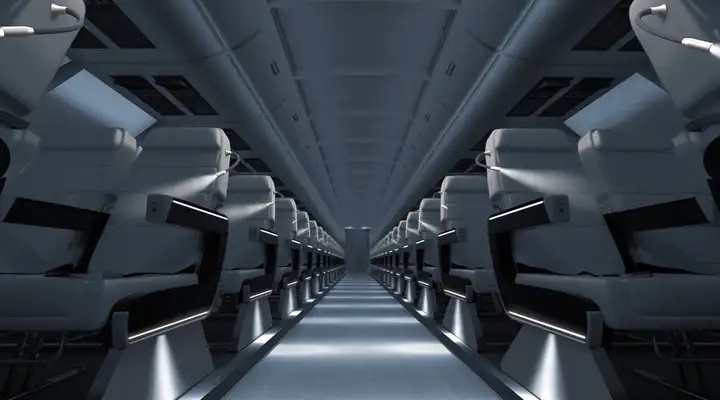 Functional Lights
SCHOTT® HelioFlex Spot Lights illuminate aisles, seats and work areas, resulting in a comfortable flight for passengers and a safe working environment for cabin crews. Powered by a remote LED light source, the fiber optic SCHOTT® HelioFlex Spot Light is sleek, stylish and simple to fit in all major aircraft.
Expertly designed for safety and convenience
The SCHOTT® HelioFlex Spot Light is adaptable, safe and effective in all areas of the aircraft cabin, with no issues regarding heat, humidity or EMI. With a cluster of spots able to be powered by just one LED light source, the system is more cost-effective and easier to maintain, while its flexibility and compact design allow it to be fitted in the tightest of spaces.
Highly flexible
Thanks to its fiber optic core, SCHOTT® HelioFlex Spot Light is extremely slim and flexible – ideal when space is tight.
Multiple spots, one light source
Enabled by the combination of fiber optic and LED technology.
Safe and secure
Electrically safe in wet and dry conditions, delivering worry-free performance.
Interference-free
No EMI, heat or humidity issues at light output.
Highly compatible
SCHOTT® HelioFlex Spot Light critical parts are qualified by all major aircraft manufacturers.