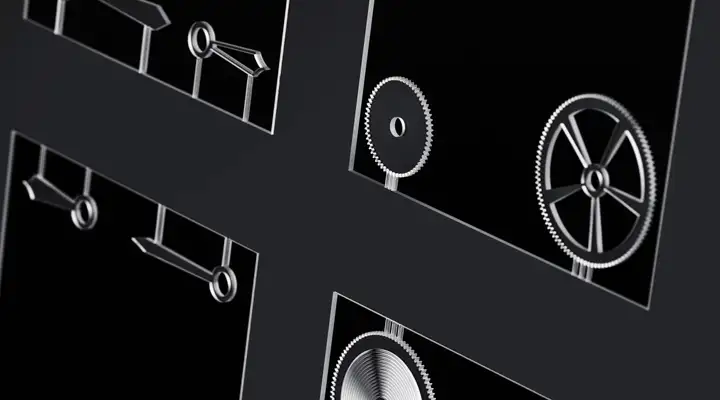 FLEXINITY® mini
SCHOTT FLEXINITY® mini offers high versatility for small glass parts, delivering highly accurate and strong components down to a few millimeters, equipped with high quality edges and the option to be through structured. The glass parts can be delivered in-frame, making them easy to handle during system integration.
A precise solution for thin glass components
SCHOTT FLEXINITY® mini is a brand new product that addresses the fundamental challenges of processing small and thin glass components for electronics and opto-electronics. It delivers all the outstanding features of SCHOTT FLEXINITY® in a tiny form, such as geometrical flexibility and outstanding precision, along with homogenous edge cosmetics and superior strength.
FLEXINITY® mini also offers the opportunity for µ-scale through structures and part-in-frame delivery that's ready for preparation before system integration (washing, coating). Once your frames have been processed, the glass components are easy to detach, either automatically or by hand. With a freeform tolerance of +/-10µm at dimensions of a few millimeters, perfectly homogenous edge cosmetics, and the option to be structured in small parts, FLEXINITY® mini combines geometrical flexibility with the highest precision.
Small, precise, and easy to handle – but conventional singulation technologies are not the choice
Many industries, such as opto-electronics and semiconductor packaging, rely on small glass components with precise dimensions and high quality edge geometry. These components can be manufactured by a wide range of mechanical singulation (or separation) methods, which require wafer-dicing capabilities using straight and full-body high-speed wheel cutting.
Traditional methods for small-size cutting of flat glass below 10 mm such as CNC cutting, sand blasting or hollow drilling have limitations concerning the final geometry of the glass parts, and run a high risk of uncontrolled randomly distributed edge imperfections.
The ideal glass component not only needs to provide homogeneous edge geometry and consistent cosmetic precision, but be delivered in an easy-to-handle and robust format that enables effective preparation for final-system integration.

Key benefits
FLEXINITY® mini offers a number of key benefits when compared to products manufactured by alternative singularization processes. These benefits provide FLEXINITY® mini with a series of unique properties and features, which include:
Small parts
Accuracy and precision
High quality edge cosmetics and geometry
Freeform (almost unlimited)
A mechanically stable frame that enables effective post processing (washing/coating)
Part detachment on demand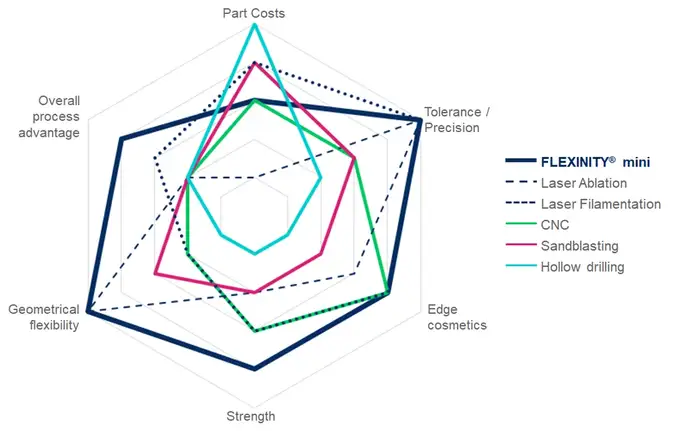 Key advantages of SCHOTT FLEXINITY® mini
Small geometry
Super small dimensions available down to just a few millimeters.
Superior formats and structures
SCHOTT FLEXINITY® mini offers the widest spectrum of free form geometries for both outer contour and through-hole µ-scale structures.
Tight tolerances
Freeform tolerances of +/-10µm for outer contour and through holes are achieved, resulting in efficient bonding and highly accurate assemblies.
High performance edges
FLEXINITY® mini delivers an unbeaten combination of exceptional edge cosmetics and geometrical perfection.
In-frame delivery
Our innovative in-frame delivery format arrives ready for washing and coating, and offers you the ability to detach on demand without added investment.
Low total cost of ownership
The high performance-to-cost ratio of FLEXINITY® mini supports a very low total cost of ownership.
Opto-electronics
As devices become smaller, the demand for space-saving packaging for opto-electronic components becomes larger. FLEXINITY® mini offers versatile, precise, and reliable small glass parts for packaging that are easy to handle and ready to integrate.
Opto-electronics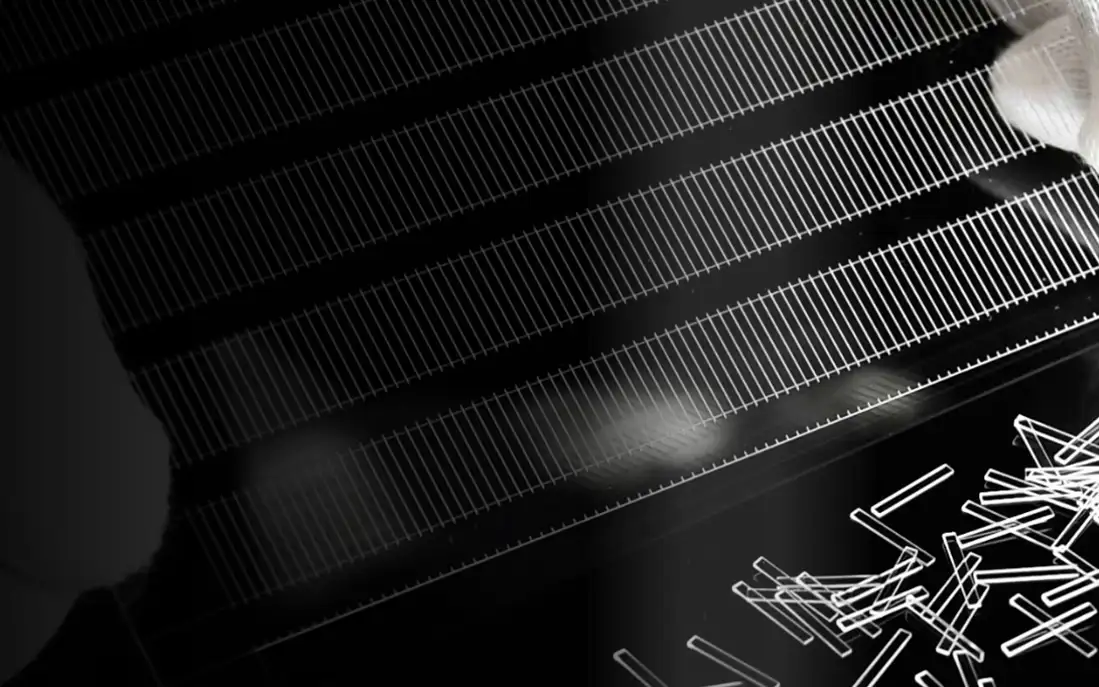 FLEXINITY® mini enables different applications
Application areas can be wide-spread, ranging from housing and packaging of opto-electronic devices using geometrically simple glass parts (see video) up to complex design elements for luxury goods. In the video you see that even small pseudo- 3D haptic elements can be realized.
Watch this demonstration of small glass parts being detached from a frame
Watch this demonstration of small glass parts being detached from a frame

Discover the perfect fit - thanks to FLEXINITY® mini.