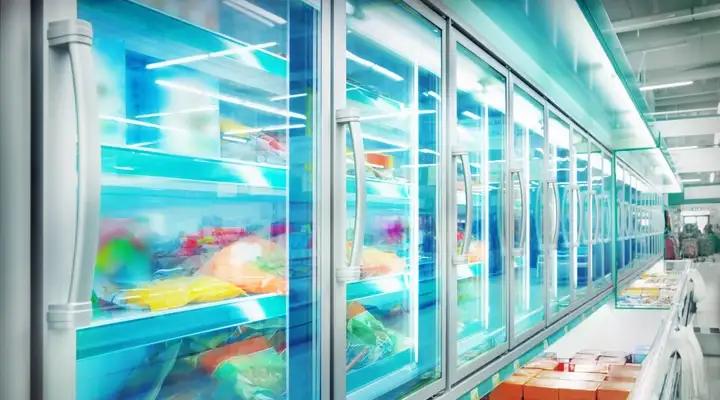 Glass Door Systems for Freezer Cabinets
For more than 40 years, SCHOTT has set the standard for glass doors systems for commercial freezers. The Termofrost® range includes frame and handle options to provide complete solutions for different cabinet structures, designs and energy levels, enabling you to create your own unique freezer door system.
Technical excellence in freezer cabinet glass door systems
The SCHOTT Termofrost® range of glass door systems for freezers benefit from several clear technical advantages. The high clarity achieved by SCHOTT glass ensures optimum views from all angles, while anti-fog coatings cut down on visible condensation. Termofrost® products also deliver energy efficiency across a wide range of sizes, opening systems and functionality features.
Clear view
Excellent light transmission and careful design ensures clear, unobstructed views for customers.
Broad choice
A wide range of sizes and options offer retailers the widest possible choice of solution.
Anti-fog coating
Special coating which prevents visible condensation and secures product visibility.
Energy efficiency
Energy-efficient doors enable retailers to remain environmentally friendly and cut costs.
Easy operation
Self-closing and hold-open systems offer convenience for customers and retailers.
Experience the extremely slim design of the new glass door system for freezer cabinets: Termofrost® Slimline