Move data at speeds of up to 100 gigabits per second with new SCHOTT TO PLUS® headers
Monday 27 February 2023 , San Diego , United States
Drawing on over 50 years of experience in transistor outline (TO) technology, SCHOTT created pioneering 50G TO PLUS® headers for the optical communication industry.
SCHOTT will showcase its new high-speed products at OFC, March 7-9 in San Diego.
The innovative 50G TO platform is available in various headers for datacom and next-generation passive optical networks (PON) applications.
The optical communication industry has never stood still. With the continuing demand for more bandwidth, transmission technologies must evolve to be faster and more efficient. SCHOTT, a leader in transistor outline (TO) technology, recently launched new high-speed TO PLUS® headers. This packaging solution for fiber-optic data transmission components enables unprecedented transmission speeds for both Datacom and passive optical networks (PON). These new high-speed TO packages will be on display at OFC, the global conference and exhibition for optical communications and networking professionals taking place in San Diego, March 7-9.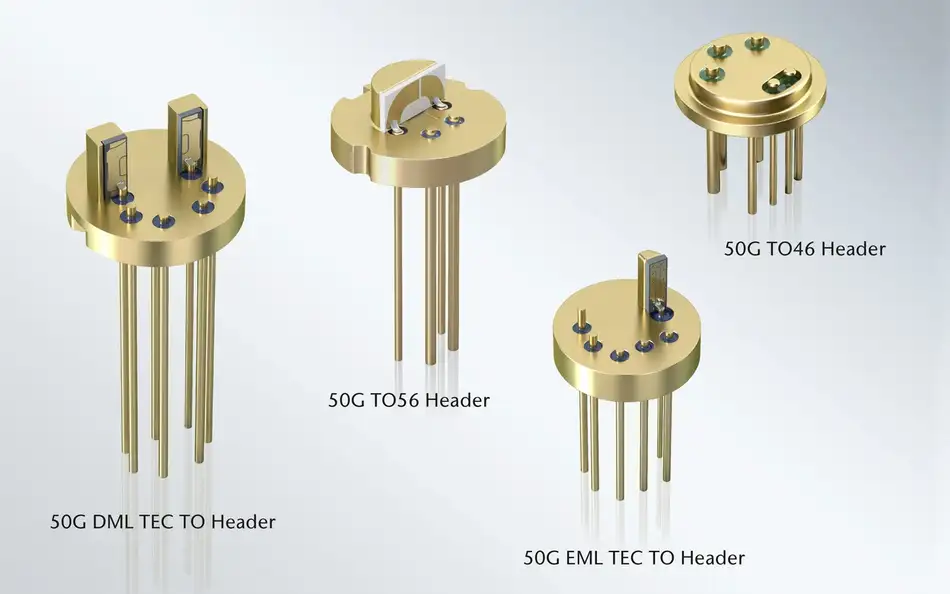 Moving data faster
Tomorrow's optical networks will make it possible to download or stream large files from anywhere with extremely low latency. To make this happen, the data centers that form the internet's backbone must be upgraded with new technology that has unprecedented levels of speed, reliability, and performance.

For data transfer, the key metric is how much data can be transported over a single fiber. The revolutionary 50G TO PLUS® technology enables an unmatched transmission speed of 50G non-return to zero (NRZ), meaning twice as much data can travel over a single fiber as previously possible. What's more, the 50G TO package is also more economical than using a box package.

Such speed can be further accelerated by combining the 50G TO with 4-level pulse amplitude modulation (PAM4) technology. This makes it possible to transmit up to 100 gigabits per second over a single fiber, paving the way for significantly higher bandwidth for data communication networks.
Ready for next-generation PON
The rapid increase in consumer demand for high-speed internet and the surge of residential optic fiber service has prompted the development of next-generation PON, the last-mile connection that brings the internet to our homes and businesses. SCHOTT's 50G platform is now avaiable for TO headers which include thermoelectric coolers(TEC), enabling unprecedented transmission speed of 50 gigabits per second for a single channel. SCHOTT TO PLUS® headers deliver the highest reliability and enable unprecedented bandwidths, enabling tomorrow's fiber broadband communication networks.

At OFC, SCHOTT will also display TO packaging products used in non-communication fields, such as lidar systems, sensors and other applications. Come see us in the San Diego Convention Center, Hall D, Booth No. 4150.
Pioneering. Responsibly. Together.
These attributes characterize SCHOTT as a manufacturer of high-tech materials based on specialty glass. Founder Otto Schott is considered its inventor and became the pioneer of an entire industry. Always opening up new markets and applications with a pioneering spirit and passion – this is what has driven the #glasslovers at SCHOTT for almost 140 years. Represented in over 30 countries, the company is a highly skilled partner for high-tech industries: Healthcare, Home Appliances & Living, Consumer Electronics, Semiconductors & Datacom, Optics, Industry & Energy, Automotive, Astronomy & Aerospace. In the fiscal year 2022, its 17,200 employees generated sales of 2.8 billion euros. SCHOTT AG is owned by the Carl Zeiss Foundation, one of the oldest foundations in Germany. It uses the Group's dividends to promote science. As a foundation company, SCHOTT has anchored responsibility for employees, society and the environment deeply in its DNA. The goal is to become a climate-neutral company by 2030.