Lithium – the hype continues
Lithium is indispensable for state-of-the-art rechargeable batteries built into electric vehicles. Besides that, lithium is an essential ingredient for some specialty glasses and glass-ceramics. Dr. Jan Hochdörffer, Head of Strategy and Business Development of Business Unit Home Tech at SCHOTT, gives an update on recent developments and their implications for users and customers.
Why is lithium so popular?
Lithium is an essential gateway for renewable energy-based mobility since it is used in lithium-ion batteries of electric vehicles and portable devices. High market expectations, especially for electric vehicle demand, have catapulted the alkali metal to one of the most treasured raw materials.
What industries are affected by this development?
This recognition puts pressure on several industries, especially those that have been using lithium for a long time. According to
Roskill materials supply chain intelligence
, material manufacturing focusing on glass, glass-ceramics, and ceramics has been the second-largest lithium-consuming industry with a combined demand of approx. 22 percent – following rechargeable batteries at approximately 54 percent in 2019. The share of rechargeable batteries strongly increased by 17 percentage points from 2016 to 2019 at the expense of all other applications.
Why does glass-ceramic production need lithium?
Lithium is an essential ingredient to every glass-ceramic. Technically speaking, lithium is the component responsible for the glass-ceramic's low or near zero thermal expansion, enabling their use in high-temperature ranges without voltage breakage. We apply these central properties to many of our products, from CERAN® cooktop panels and ROBAX® fire viewing panels to mirror substrates for astronomical telescopes made of ZERODUR® glass-ceramic, PYRAN® Platinum fire-resistant glass or NEXTREMA® for technical applications. Therefore, we require lithium of especially high quality from the market. Due to its proportion and high value, the lithium price significantly determines the batch cost of all glass-ceramic products.
What is the current market situation and outlook?
Today's global lithium supply is governed by a handful of mining companies mainly located in Australia and Chile, accounting for approximately 70 percent of global production. Prices for the two most common preliminary material forms, lithium carbonate and lithium hydroxide, have doubled from the beginning of 2016 to the beginning of 2019 and have been highly volatile since then. Global lithium demand is expected to triple from 2020 to 2025, driven by the demand for electric vehicles. Further additions to production capacity for mined and refined lithium products will be required to keep pace with demand growth led by battery applications. The capacity in the pipeline appears sufficient to meet this demand growth; however, bringing sizable volumes of new capacities online requires financing and therefore needs lithium prices on higher levels.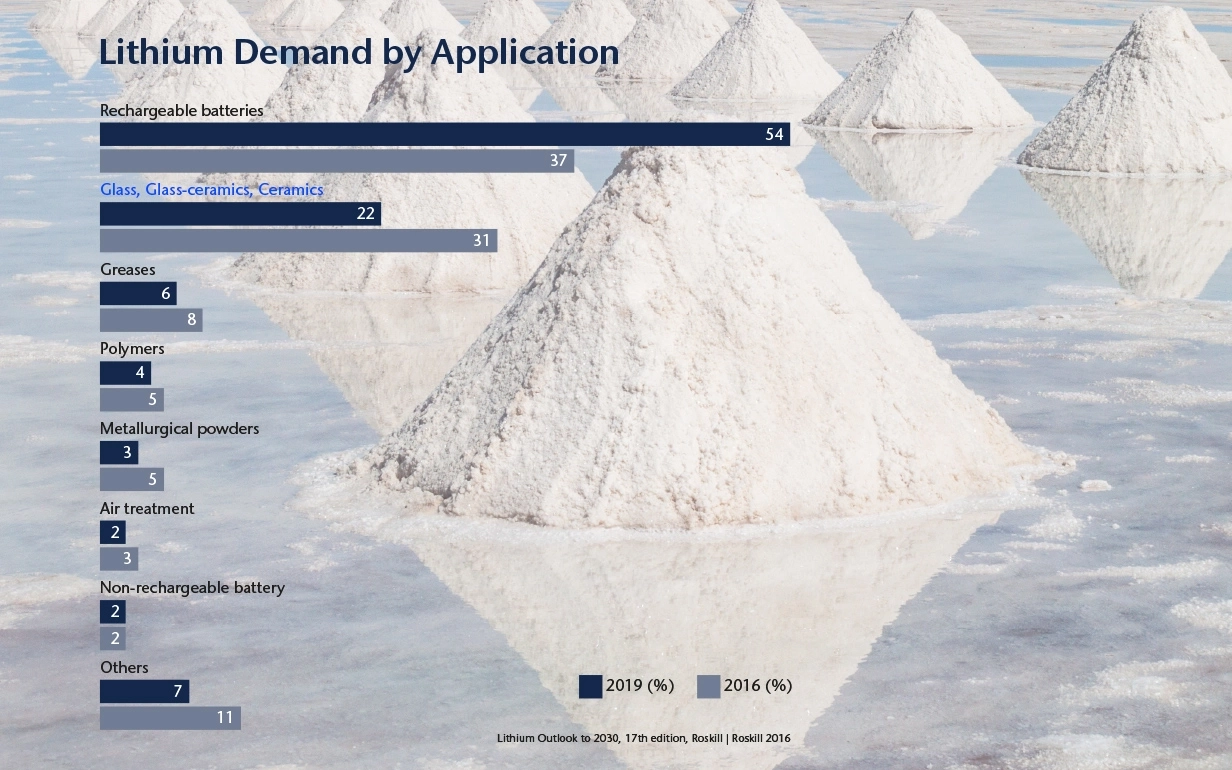 What does this mean for traditional users?
As electric vehicle battery applications extend their dominance of lithium demand, the lithium supply market is expected to become more focused on providing quality grades required by such applications. The market situation for special lithium carriers in traditional lithium applications – especially in the glass, glass-ceramics, and ceramics industries – may stay tightened due to their specific requirements towards lithium quality. Higher lithium prices will likely drive price increases for corresponding products – and unfortunately the periodic table of elements offers no replacement for lithium.

Sources:

USGS – Mineral Commodity Summaries 2021, page 99

Fastmarkets – Commodities, industrial materials, lithium, 11.06.2021

Green car congress – Roskill: Rising prices could be new norm for lithium industry, 04.02.2021


July 08, 2021