Glass Powder and Particle Technology
Distinctive properties make high-purity specialty glass or glass-ceramic powders and particles an important ingredient in dental, medical and cosmetics, sensor and electronics industries, as well as a broad variety of other technical applications.
What is glass powder?
Also referred to as 'glass frit' or 'glass flux', glass powder is glass that is milled down into very small particles, with a typical median grain size between 30 µm down to as fine as 0.1 µm. Customized sizes or distributions are also possible. Glass powder properties stem from the identity of the glass itself, as well as particle size and morphology. Depending on the composition, specialty glass powders can meet highly versatile requirements.
Glass Powders: function and applications
A broad range of properties make specialty glass powders an extremely versatile material that serves a broad range of use cases and applications.
Sealing and soldering of metals, ceramics or glasses
When used to electrically insulate, seal or join different materials, one of the key aspects for a durably stable bond are the coefficients of thermal expansion (CTE) of the materials to be joined. Application examples include Glass-to-Metal Seals, high-temperature applications (for example, Solid Oxide Fuel Cells), opto-electronic and MEMS packaging, or sensor technology.
Functional materials
Nano- and macro-porous glass powders offer excellent absorption and separation capabilities, which are ideal for applications such as filtration, chromatographic separation, or as a carrier for liquids and active substances.
Inorganic fillers
Polymer-based materials can be enhanced with thermal stability or optical features, while glass can be enhanced with mechanical or chemical resistance features. Some glass types even have (re-)active properties, such as bioactivity or ion release. Application examples include dental restoration, cosmetics, medical and polymer composites.
Protection for semiconductor devices
For example, to passivate and encapsulate thyristors, power transistors and diodes, sinter glass diodes and rectifiers, and high-voltage devices.
Printing materials
Applications include glass-on-ceramic screen printing, silicon wafer passivation or sensor technology. Glass powders also offer interesting use cases for 3D printing of complex glass bodies – for example, dental applications such as tooth implants, crowns, or bridges.
Advantages: why glass powders can make the difference
Glass powders are used for a broad variety of intriguing material properties. When compared to organic, polymer- or silicone-based materials, the advantages and typical features include:
Superior durability
As an inorganic, non-aging material, glass powders offer superior longevity and stability – even in harsh operating environments.
Extreme temperature resistance
Low- or high-temperature melting glasses are available, as well as powders with high temperature resistance up to several hundred °C.
High purity
Glasses available with low alkaline content, with or without lead, free of heavy metals (arsenic, antimony), or low amount of colouring ions.
Chemical resistance
For example, against acids, bases, water, pharmaceuticals, oil or gasoline.
Electrical features
Glass powders with electrical insulation > 2 kΩ*cm, electric breakdown strength ~20 kV/mm, or dielectric properties.
Optical features
Broad range of glasses with specific optical properties, such as refractive indexes, radiopacity, tailorable transmission and absorption of certain wavelengths.
Ready for special requirements
For example, bioactive properties for cosmetic applications, lead-free glass powders, HF-absorbing glass, or UV-absorbing glass.
Supply formats
Glass powder can be sold 'as is' or further processed as sintered preform glass or glass pastes.

Powders can be supplied using different manufacturing techniques, resulting in a broad product portfolio with different grain sizes, various particle size distributions, and customized morphologies. Grinding with extremely high purity levels is a special competency of SCHOTT. In addition, nano- or macro-porous glass particles are available as part of our portfolio. Value-added process steps such as surface treatment (for example, silanization) are also available.

Sintered preforms are pressed and sintered glass beads that can be supplied in an extremely broad variety of shapes and dimensions. Preforms are ready-to-use because they do not contain any binder. SCHOTT is a development and innovation partner for customers from various industries and offers customized preforms made from nearly all glass types.

Glass pastes consist of glass powder mixed with an organic binder and solvent. Featuring a defined viscosity, they are ready to be screen-printed or dispensed for sealing and over-glazing purposes.

Other formats are available on request. Special formats such as tapes/green sheets and special pastes can be developed and produced in cooperation with partners.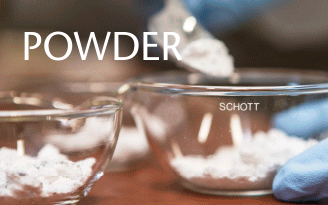 How glass powders are produced
SCHOTT controls the entire process chain from the development and selection of raw materials to grinding and further processing. More than 130 years of melting experience and the availability of different melting technologies enables excellent purity and batch-to-batch repeatability. Different grinding technologies also enable specific grain size distributions. SCHOTT continuously optimizes its grinding technologies, both in-house as well as with external development partners.
Production process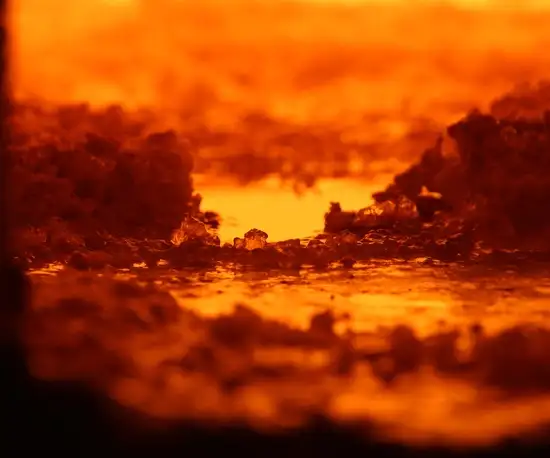 Glass development and melting
Practically all melting is done in-house. The choice of melting technology depends on the composition and quality requirements of the individual glass type. Over 100 different glass powder compositions that are developed in-house can be offered as standard powders. Customized formulations can be developed and melted upon request.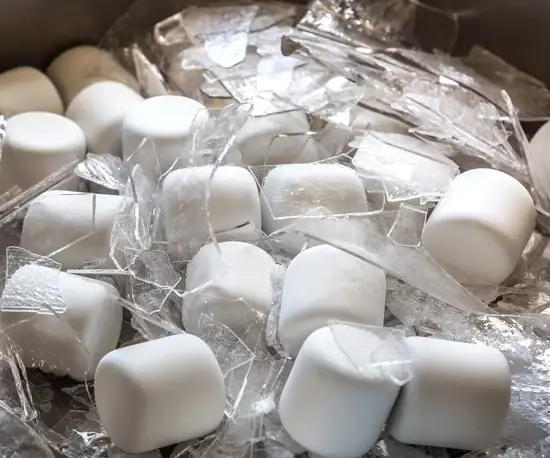 Grinding/milling
Depending on the desired grain size and distribution, different dry and wet grinding technologies are used. These include SCHOTT's patented UF Ultrafine technology for grain sizes down to 0.1 µm, mostly used in the dental field. Coarse grain sizes are also possible upon request.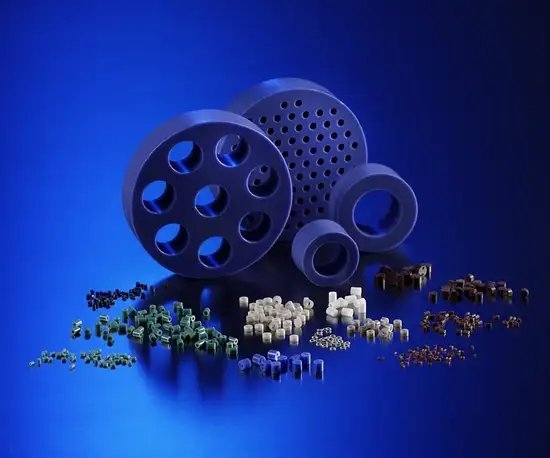 Processing
Glass powders are also available processed into sintered glass preforms with customized dimensions. The fine particles can be offered as a ready-mixed glass paste. Silanization is a coating process that enables better bonding of the glass particles with polymer-based composites. It is a standard, established process, especially for dental restoration materials.
Why SCHOTT?
Experience the benefits of working with one of the most experienced suppliers and innovation leaders in high quality, high-purity glass powders. We offer first-class support for your developments, from simple modifications to unique new glass powders.
Global specialty glass expert
As one of the world leaders and Europe's Number One in Specialty Glass, we are close to customers worldwide with local presence.
Flexible, reliable supplier
We are vertically integrated with the complete range of processes and expertise – all in-house. This means you can trust in our quality and supply security.
You want it, we make it
More than 100 standard compositions are available and custom-made glass powders can be developed to fit your exact requirements.
Small to ultra-high volumes
Benefit from close technical consulting during your entire development process. We support you from sample quantities to the mass production of several tons.
SCHOTT: Your reliable supplier for glass powder
With more than 80 years of experience in milling glass, we supply powders to a broad variety of industries for a range of applications, including:
Automotive and Industrial Sensors
Aviation & Aerospace
Biotech
Dental & Oral Health
Energy (for example, Solid Oxide Fuel Cells, Batteries)
Medical & Cosmetics
Microelectronics (for example, Wafer Passivation)
3D Printing