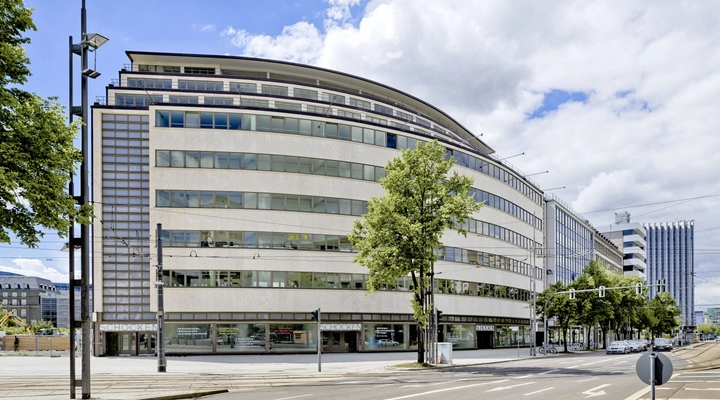 Schocken Department Store
Originally built in 1930, the visually striking Schocken department store in Chemnitz, Germany was converted into a museum in 2001. This required extensive renovation, with its exterior windows needing to be reglazed using historically accurate glass with solar protection and heat insulation.
91 %
light transparency achieved by SCHOTT TIKANA® glass.
8 mm
gap between panes of TIKANA® and float glass filled with an inert gas to create effective insulation glazing.
2.9 m
is the maximum length TIKANA® can be manufactured in to suit large-scale projects.
49 %
reduction in UV transmission in the 380 to 420 nm range with the use of a special film.
Background
When the nine-story Schocken department store was first built in the Eastern German city of Chemnitz in 1930, it was one of modernist architect Erich Mendelsohn's finest achievements. The windows were particularly eye-catching, with bands of glass stretching around the curved structure. The store was renovated between 2011 and 2014 to become Saxony's State Museum for Archaeology, which demanded a rethink of how its glass features could benefit the new building while maintaining the memorable look of an iconic landmark.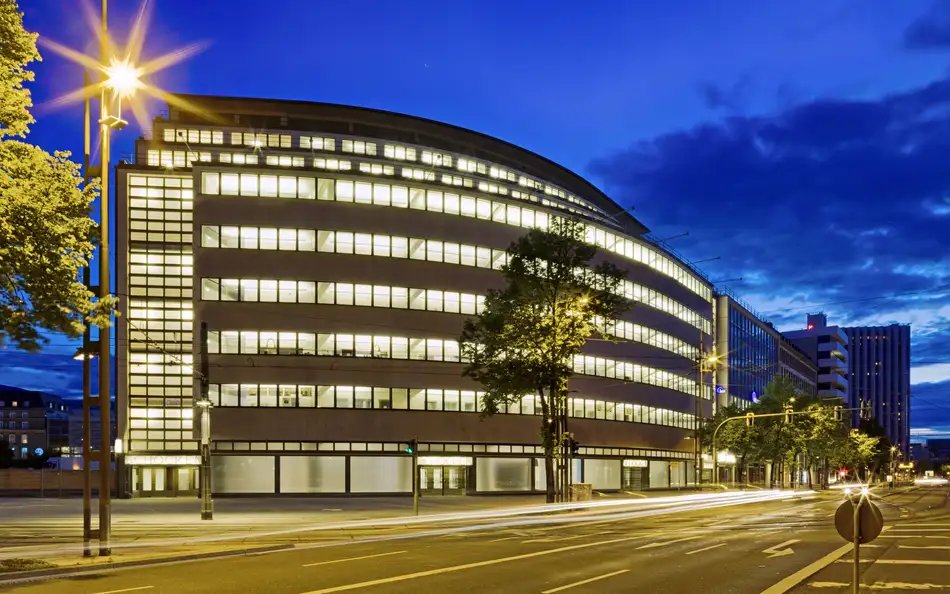 Task
The planned museum premises were set to house large artifacts, with natural light controlled in order to present them at their most impressive. This meant the windows would play a vital role in the functionality of the building, paying particular attention to the original esthetic style of Mendelsohn's architectural vision. Meanwhile, solar protection and heat insulation also needed to be addressed, with strict adherence to modern-day energy efficiency standards.
Solution
Authentic glazing for the iconic bands of windows on the front of the building was achieved using SCHOTT TIKANA® restoration glass. Manufactured using the traditional Fourcault process, not only does this colorless, machine-drawn glass closely resemble historic glass in its irregular surface and low thickness, but it also offers high transparency, with 91% light transmission and 100% color rendering. Inside, TIKANA® glass insulating units replaced the single glazing on the lateral stairways to boost energy efficiency.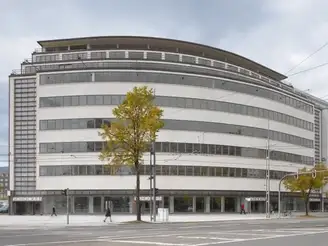 1/3
The new glazing needed to provide solar protection and heat insulation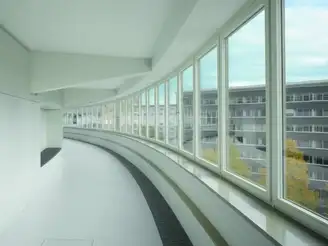 2/3
The windows are key to the architecture of this historically significant building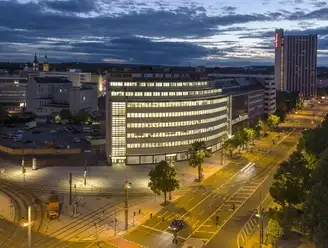 3/3
TIKANA® glass was chosen for its high transparency and period authenticity
Strong insulation inside and out
To achieve high levels of insulation for the building, TIKANA® glass was customized with matte sandblasting and 8 mm-thick spaces between panes of TIKANA® and float glass filled with krypton. Laminated security glass replaced float glass in vulnerable areas to protect against burglary, with the gaps between panes filled with argon. Since the museum's precious artifacts could also be subjected to harmful radiation, a solar coating was also applied to the exterior panes to protect the new assets.
An architectural marvel
As well as providing functional benefits to the renovated interior, the museum's exterior wowed visitors when it opened in May 2014. Both the public and the industry were highly impressed. Mary Pepchinski, of the magazine Architectural Record, commented: "Encountering the recently renovated early-20th-century landmark will be a revelation, even for those familiar with it. The restored curved facade, with its ribbon windows and limestone spandrels, seems to float above the fully glazed ground floor, forming an arresting backdrop to a busy intersection in this central German city."
A rare but all the more successful cooperation between curators, architects and scenographers with an exemplary result.
Used materials & similar products
SCHOTT TIKANA® is ideal for restoration projects thanks to its low thickness (down to 4 mm) and slightly irregular surface that replicates period glazing. High transparency, the option for enhanced UV protection, and the potential to be used alongside float glasses for double glazing are among its other benefits.
The museum will strengthen Saxony as a land of culture; Chemnitz gets a museum that plays in the same league as our national art collections in Dresden.
A multi-team triumph for German architecture
This complex project was achieved through the close collaboration of a number of expert companies. Working from a vision by Erich Mendelsohn, one of the most important architects of the 20th Century, SCHOTT joined up with a glass engineering company, a glass processing firm, and an extensive team of architects to deliver a building that's now one of Germany's top architectural attractions.

Glass made by
SCHOTT
Glass structural engineer
Glasfaktor Ingenieure GmbH, Dresden
Glass processor
Flachglas Sachsen GmbH, Grimma
Architects
ARGE Kaufhaus Schocken
Auer+Weber+Assoziierte
Knerer und lang Architekten GmbH