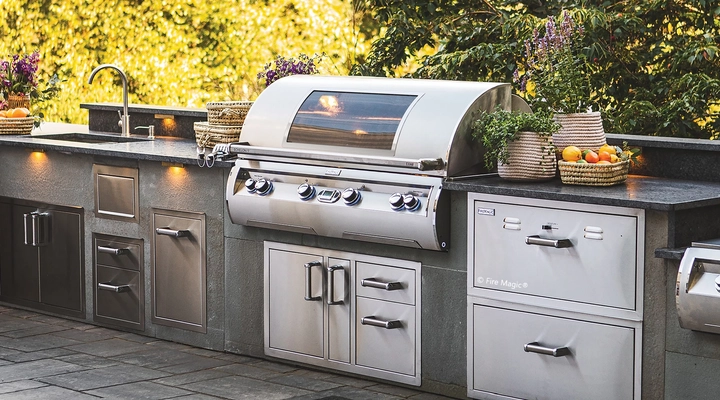 Master the Grill – through a glass-ceramic window
Fire Magic® Grills are hot – in more ways than one. According to RH Peterson Co., parent company of Fire Magic®, they put out more BTUs (British Thermal Units, the "horsepower for grills" so to speak) per square inch than any other residential-available grill. And for homeowners installing outdoor kitchens, they represent the pinnacle of design. So when engineers at RH Peterson Co., wanted to build a grill with a window, they needed a material that could withstand intense heat, extreme temperature changes, and look good while doing it.
Glass-ceramics to master the task
In the past, a glass window on the barbecue grill was once a standard feature. But the tempered glass grill makers used wasn't up to the task as it tended to weaken or break when exposed to high heat or sudden temperature changes (e.g. rain). To compensate, the windows were usually tiny. And over time, smoke and grease combined to stain the glass an uncleanable grayish-yellow. Windows soon disappeared from grills altogether.
However, grill masters still desired a way to see inside the grill while the food was cooking. Being able to catch flare-ups means the difference between "grill master or grill disaster".
With the use of glass-ceramic both the design and performance issues were solved. A transparent piece of SCHOTT NEXTREMA® glass-ceramic retains strength at temperatures of up to 925°C, and it's so resistant to thermal shock that you could heat it to 800°C and throw it in ice water (approx. 10°C) without any effect, so a little rain is no problem.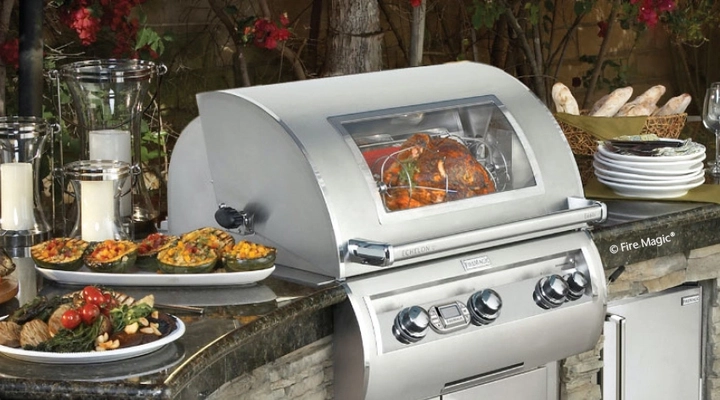 Grilling with all senses
Incorporating NEXTREMA® glass-ceramic allowed Fire Magic® to design a viewing window into the grill lid, with a unique contoured face. A novel design approach that reduces frequent cleaning of the glass-ceramic window to a minimum. Their specially designed curved hood creates an "air-wash," moving smoke and splatter to the back of the unit, so grillers can always see the action without opening the hood at all. The contoured shape also opened up the lid surface, allowing more visibility into the grill. A true grill masters dream.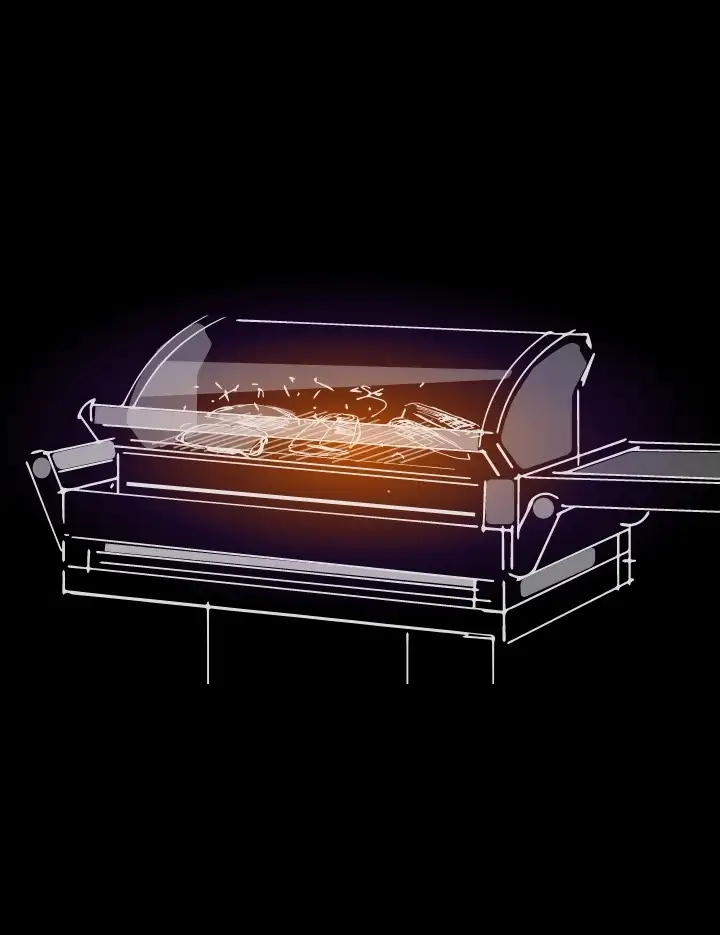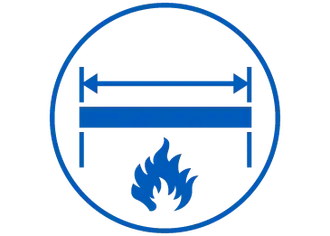 Near zero thermal expansion
Resistance to thermal shock
Smooth, non-porous surface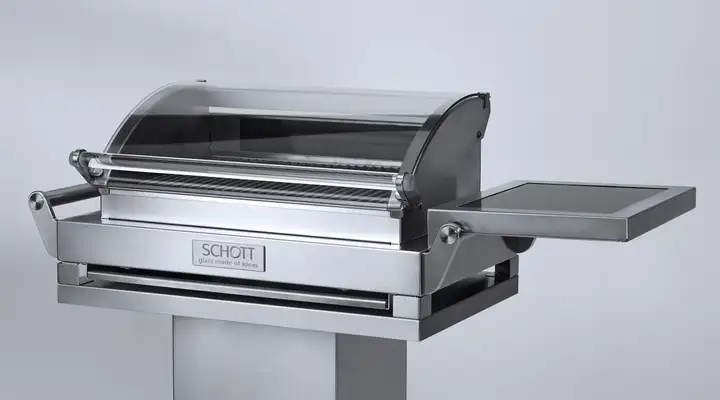 Need to add some sizzle to your grill products?
Check out SCHOTT NEXTREMA® complete portfolio of glass-ceramic lids, Burner Shields, side burners and accessories.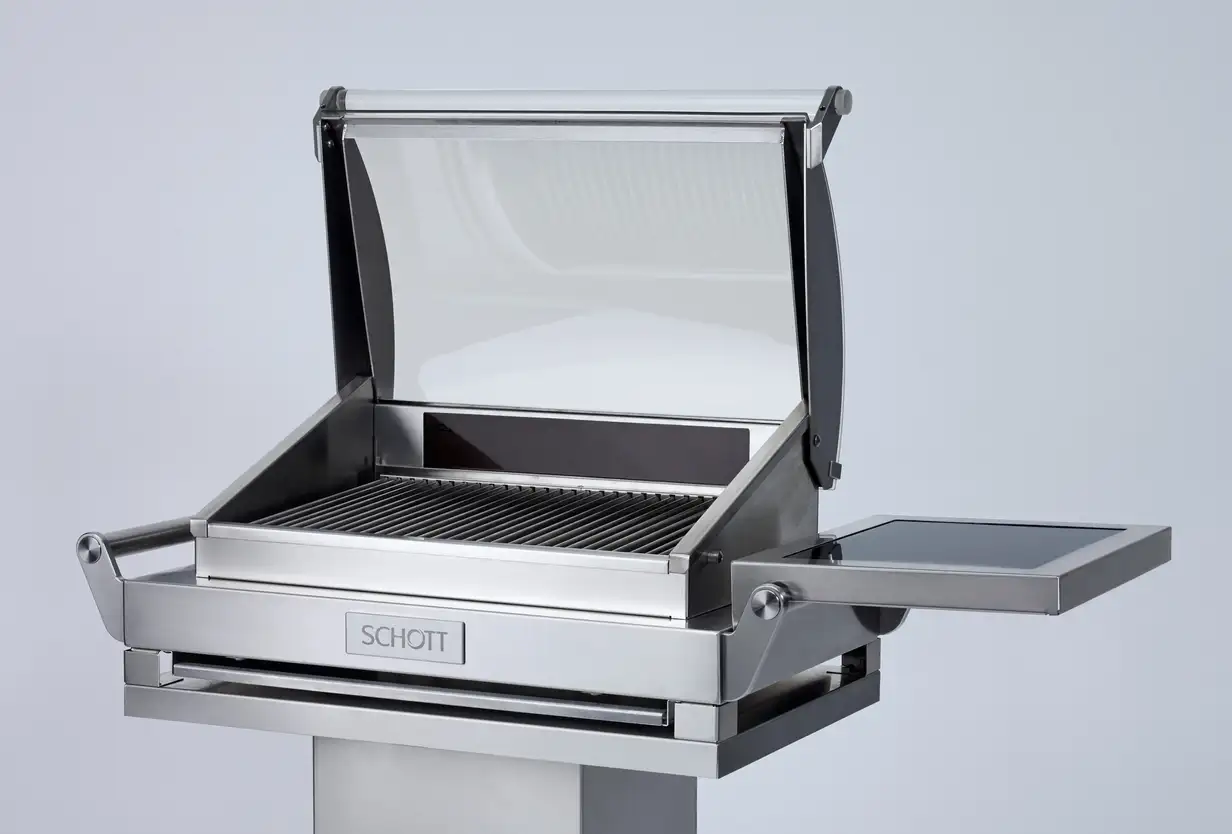 1/5
A perfect view into the grill
A transparent NEXTREMA® glass-ceramic window or lid allows the user to see what's happening inside the BBQ without opening up the lid and crashing internal temperatures.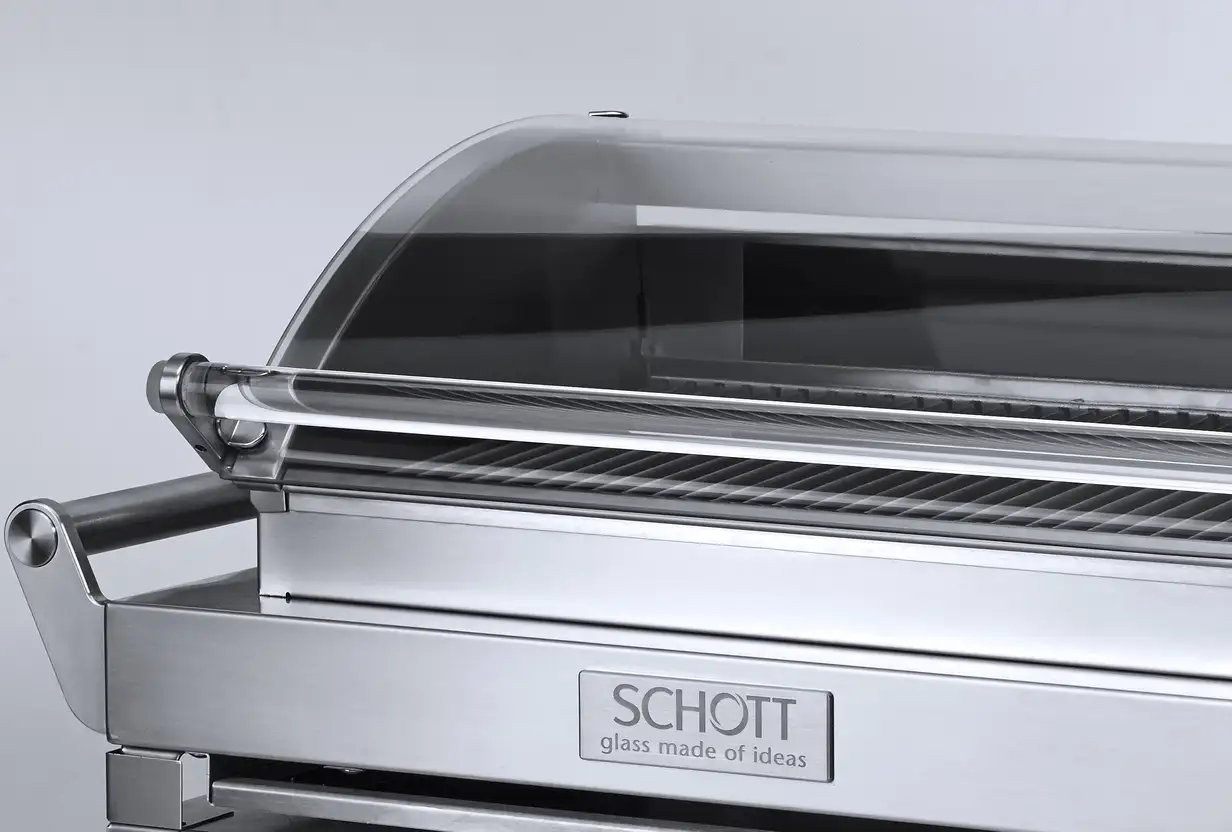 2/5
Function meets design
Keeping the heat where it belongs, while visually monitoring flare-ups. It also adds a sophisticated design element to the overall look of a grill.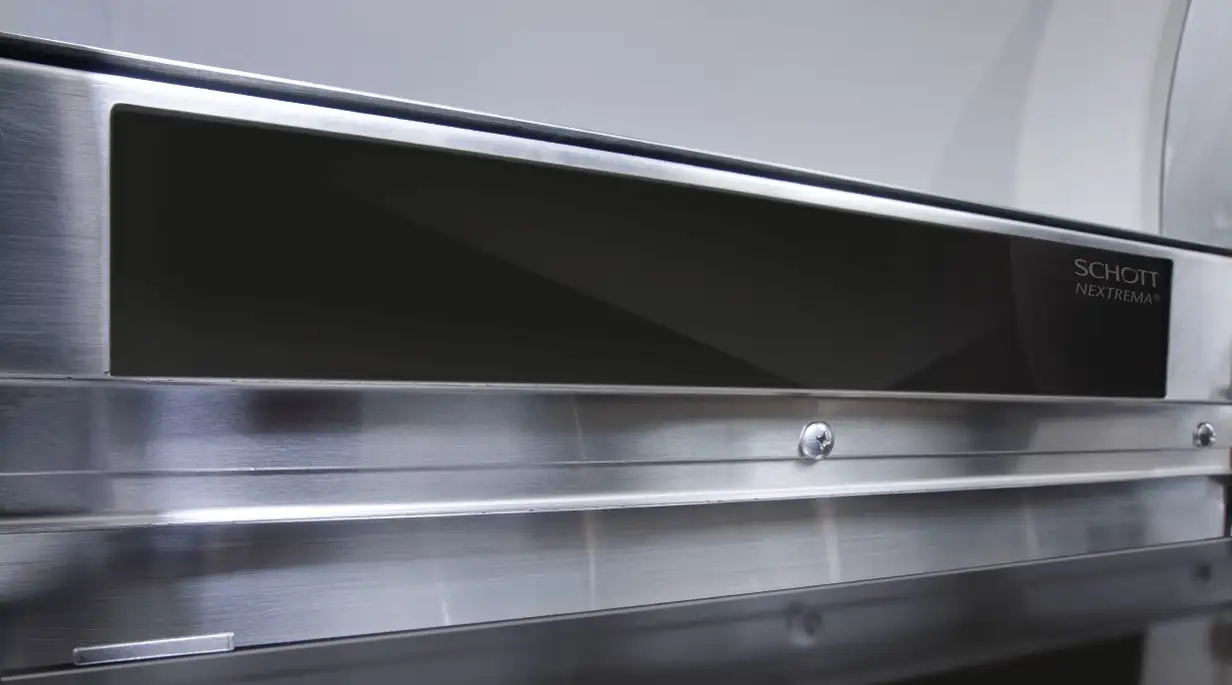 3/5
Modern update to a rather old grilling style
Use NEXTREMA® tinted glass-ceramic to enhance an old barbecuing style like infrared grill rotisserie burner. Not only does it add a striking design element to the grill, but gives backyards chefs an amazing degree of temperature control with efficient IR transmission while protecting the heaters behind the glass-ceramic panel. Heat transfers across the burner, cooking the food more evenly. Perfect for larger food items – and the material is easy to clean, too.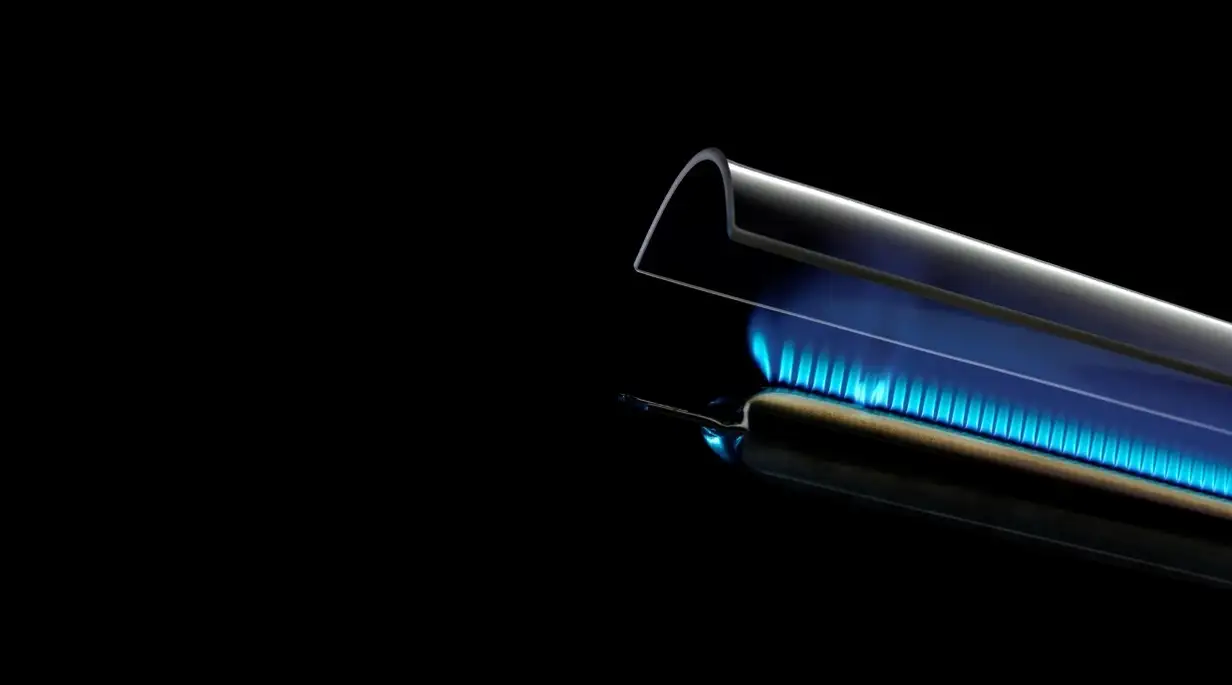 4/5
Visible but protected
NEXTREMA® Burner Shields are transparent, allowing users to receive visual feedback on ignition and size of the flame when adjusting the controls. Especially in combination with transparent lids or windows. Providing safety and peace of mind by putting an end to BBQ cooks wondering if the grill ignited or not. Burner Shields are non-corrosive, and provide manufacturers an almost maintenance-free alternative to metal sheets. At high heat, drippings simply burn off, of the smooth, non-porous surface.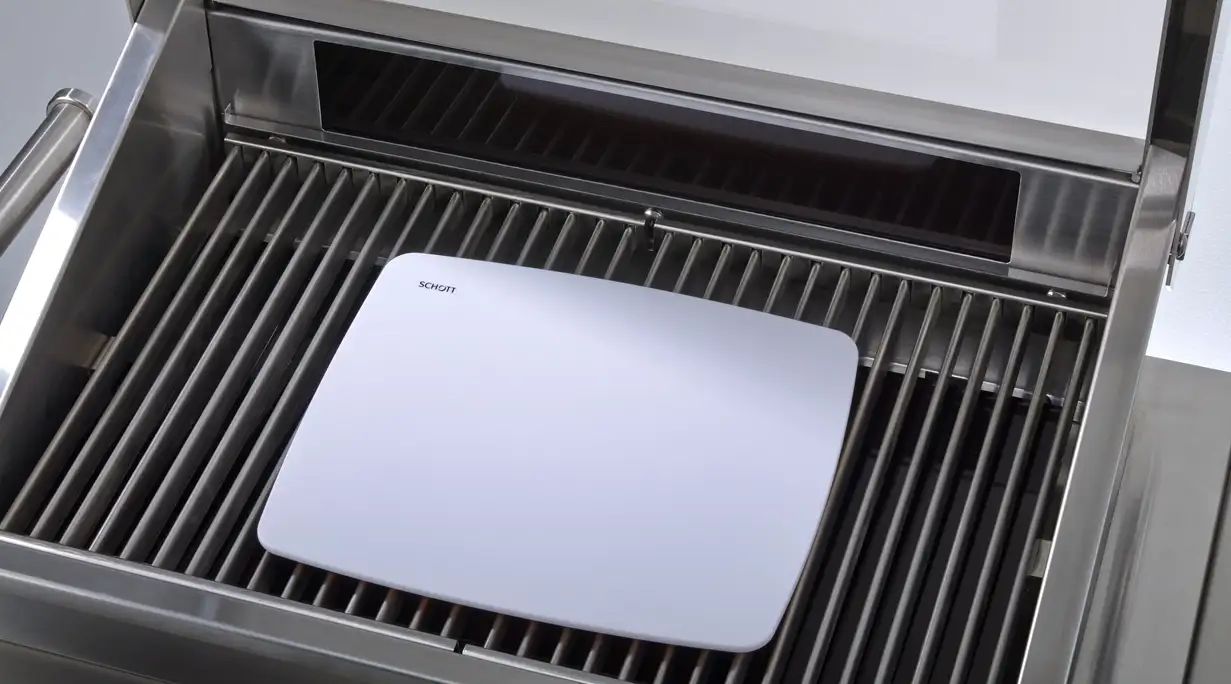 5/5
Stylish grill accessories and planchas
BBQ accessories, such as pizza stones and planchas, are even more stylish and in demand with NEXTREMA®. Making pizza or vegetables on the grill possible without falling through the grates. It requires no preheating time and is easy to clean.
BBQ portfolio with NEXTREMA®
BBQ portfolio with NEXTREMA®

Why NEXTREMA® might be a perfect solution for BBQs? Find out more.

NEXTREMA® Burner Shields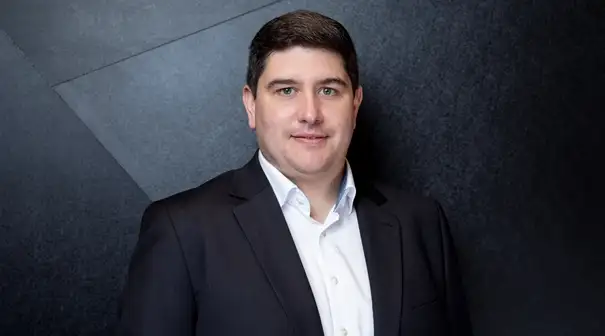 Roberto Perez Castro
Head of NEXTREMA® Product Management