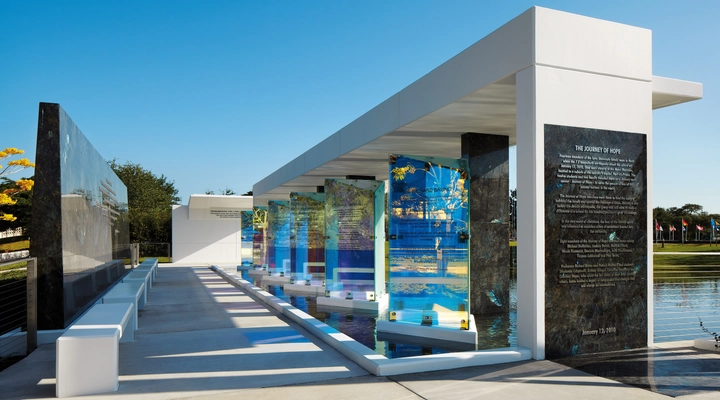 Lynn University Florida
When a Florida university wanted to create a lasting memorial to six students and staff members killed in tragic circumstances, they aimed to celebrate these individuals as well as mourn their passing. SCHOTT NARIMA® color effect glass was used to make a uniquely vibrant tribute.
6
beautiful memorials created at Lynn University.
63 m²
of glass installed as triple-glass laminates.
2.4 m
high prisms installed, each made from four panels of NARIMA® glass.
3,770 mm x 1,700 mm
is the size of a standard NARIMA® panel, with the option for customization.
Background
It was a tragedy that didn't just shock a university in Florida – it shocked the entire United States. When 12 students and two professors from Lynn University in Boca Raton travelled to Port-au-Prince, Haiti in January 2010, they wanted to contribute humanitarian aid on the University's annual 'Journey of Hope'. Instead they became victims of a natural disaster, when two days into their trip their hotel collapsed during an earthquake. Four students and the two professors were killed, sending the University community into mourning. A unique memorial was planned to honor the lives lost.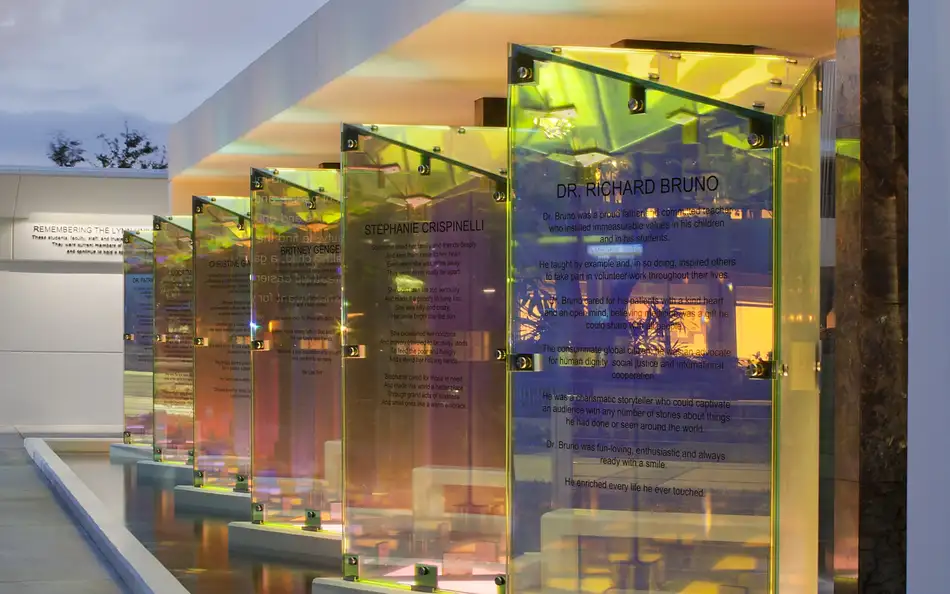 Task
The plan was to remember the six in a "Remembrance Plaza" situated in the middle of the University campus. But the feeling was that this special place should not convey a somber or gloomy mood, but rather a positive, inspiring atmosphere, continuing the desire to do good for others that inspired their determination to travel to Haiti. Each of the six memorials would reflect rainbow colors, representing their individual characters and the message of hope their lives now symbolized despite the sad circumstances of their passing.
Solution
Florida architecture firm Sousa Inc. were commissioned to create the memorial at the university. In order to realize the idea, they decided to make use of the unique properties of SCHOTT NARIMA® color effect glass. Six prisms were constructed, each using three panels 2.4 m in height and 1.2 m in width, along with a 1.2 m equilateral triangle for the top to complete the prism shapes. The blue-green color scheme was used for the students' memorial prisms and blue-gold for the professors. On each prism was inscribed family eulogies or poems fondly remembering these individual personalities.
A source of light and positivity
In total, 63 m² of glass panels were installed as triple-glass laminates made of two colored NARIMA® panels, with two panels of thermally tempered extra-clear low-iron float glass surrounding them on both sides. The feature of the memorial that really draws the eye is the rainbow effect created by the glass prisms, which changes color and evolves with the natural light around them, giving the impression of a living spirit and a source of light, color and positivity. On a more practical level, metallic coatings add scratch resistance and chemical stability to protect against the elements and impact damage.
A lasting effect
The shimmering prisms are in harmony with the wider Remembrance Plaza, reflecting their surroundings as well as channeling natural light in an ever-changing way, like living memorials. The NARIMA® glass also offers a clear view of the engraved names and inscriptions. The prisms rest on pedestals inside a water basin that's just a few centimeters deep, while six polished granite columns rise up to support a white roof overhead. Water cascades from the roof and continually flows into the basin down six steps in the style of a waterfall. It's a truly beautiful and colorful way to ensure these six lives still make an impact on the university environment.
Remembrance Plaza is a shimmering memorial of water, light and stone at the heart of our campus. Each day, Remembrance Plaza draws the awe and appreciation of campus visitors, ensuring that the stories of our students, professors, and the Journey of Hope remain with us always.
Used materials & similar products
SCHOTT NARIMA® is a popular dichroic glass that reflects some colors while letting others pass through. The eye-catching features of this glass has made it popular with architects, artists and designers around the world for use in facades and interior wall glazing, as well as statement structures.
SCHOTT collaboration brings colorful vision to life
To build the memorial, Florida-based architect Luis Sousa consulted with local contractor Gerrits Construction and the Custom Components Company, with a view to making a statement full of light and color. They chose SCHOTT NARIMA® glass for its unique color effect, with installation help from Faour Glass of Tampa, FL, and lettering courtesy of TriView Glass Industries, LLC. Together they produced a truly captivating landmark of commemoration.

Glass by
SCHOTT

Architects
Sousa Inc.

Construction
Gerrits Construction, Custom Components Company

Installation
Faour Glass

Lettering
TriView Glass Industries, LLC