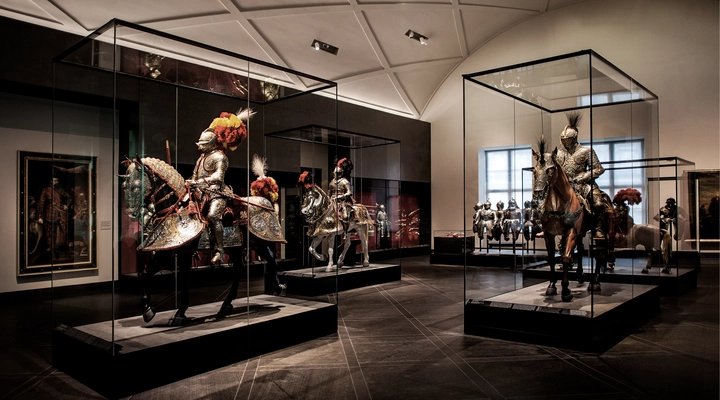 Royal Palace Armory
When the Royal Palace in Dresden, Germany wanted to enhance the visual impact of its many historical artifacts, they needed laminated safety glass to provide the best possible views, while protecting against damage and wear and tear. SCHOTT AMIRAN® offered the ideal solution.
13
large display cases are protected by SCHOTT AMIRAN® glass.
700 m²
is the size of the vast hall that houses the Armory's displays.
1 %
reflection with AMIRAN® glass, providing up to 98 % light transmission.
17.5 mm
thickness of the AMIRAN® panels, offering very high security.
Background
Dresden Royal Palace is a major tourist attraction that contains five museum sections, one of which is the Armory. The Armory houses one of the world's largest collections of ceremonial weaponry, armor and historical textiles, with exhibits dating back as far as the 15th century. Each exhibit takes visitors back to a world of knighthood, parades, and jousting tournaments, with many of the pieces once used by the Electors of Saxony, as well as being used in the Thirty Years' War. Some of the most eye-catching pieces are also on display in the Palace's newly redesigned Riesensaal ("Hall of the Giants").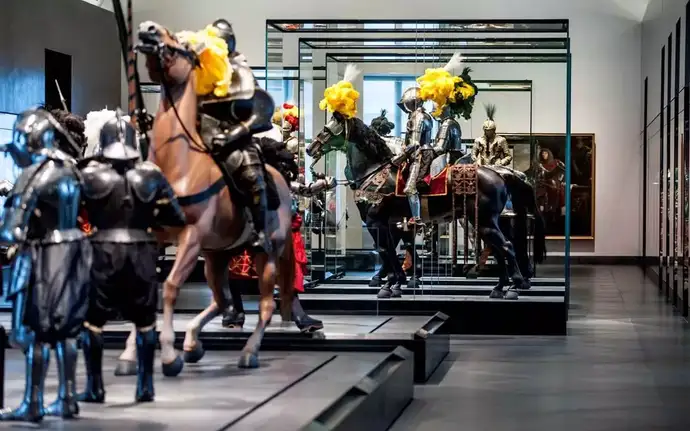 Task
The "Hall of the Giants" in Dresden's Royal Palace was restored to its full historical splendor in 2013, in its original dimensions with a new interior design and stunning armory collection on display. However, in order to make the most of the detailed displays that recreated knights on horseback in tournaments and in battle, some of the exhibits needed to be protected behind glass. These protective panels not only had to be strong enough to maintain security and kept clean and scratch-free, they had to give all visitors the best view possible.
Solution
Since the hall and armory were illuminated with both fiber optic lighting and natural light, there were potential clarity issues for viewing the exhibits, as well as problems with long-term exposure to harmful light radiation. For Sehner GmbH, the museum fitting specialists who made the display cases for the new armory and Hall of the Giants, SCHOTT AMIRAN® was the perfect solution. Fitting AMIRAN® panels ensured optimum anti-reflective views of all the encased exhibits, regardless of the angle they were approached from. They could also be cut thick enough to offer strong security, as well as protection against harmful light radiation.
Clear innovation with clarity and security
The benefits of SCHOTT AMIRAN® are enjoyed in offices, retail, leisure, and living spaces around the world, as well as galleries and museums, thanks to a number of innovative features. Offering extremely high light transmission (1 % compared to 8 % with conventional float glass) and very strong color rendering, AMIRAN® can also be processed in a variety of sizes and thicknesses, with coatings available to make it even more scratch-resistant and easy to clean. The glass is also bendable to fit into stylish modern designs and unconventional architecture. With the potential for printing and drilling also available, the possibilities are endless.
The effect can be invisible yet eye-catching
The effectiveness of SCHOTT AMIRAN® is best demonstrated by the fact that you can barely see it. The almost total lack of reflection produced by this glass means it's easy not to notice that the objects it shields are behind glass. This lack of reflection and the best possible color stability, maintained from a wide variety of viewing angles, enables much easier photography, which is a real bonus for visitors wanting to capture the highlights of the museums on camera. At the same time, the glass is easy to clean and maintain, retaining its clarity after years of installation, even when exposed to the elements.
Used materials & similar products
SCHOTT AMIRAN® was used for this project thanks its anti-reflective qualities and unrivalled strength, as well as its bending capability. These advantages have resulted in AMIRAN® becoming a trusted premium brand used in stylish facades, retail displays, panorama restaurants, and high-end offices around the world.
An expert demonstration of great teamwork
Throughout the project, SCHOTT worked closely with Sehner GmbH, a company based in Deckenpfronn, Germany that specializes in showcases for museums. Working with the architects, Holzer Kobler Architekturen Berlin GmbH, Sehner designed, manufactured and assembled the display cases, choosing SCHOTT AMIRAN® glass for its low reflectance and high clarity.


Glass made by
SCHOTT
Showcase design, manufacture, and assembly
Sehner GmbH
Architect
Holzer Kobler Architekturen Berlin GmbH