SCHOTT Jade: The perfect fit for today's air travel
At Aircraft Interior's Expo 2022 in Hamburg, the SCHOTT Aviation team met with the designers from PriestmanGoode to reflect on the Jade Reading Light – their joint development and the first glass aviation light operated by touch. In this interview, the experts talk about how Jade fulfills passengers' needs in modern-day air travel.
Ben Rowan, Director at PriestmanGoode, and Philip Fischer, Vice President SCHOTT Aviation, Automotive, Industrial, inspect the Jade Reading Light at SCHOTT's booth at Aircraft Interiors Expo 2022.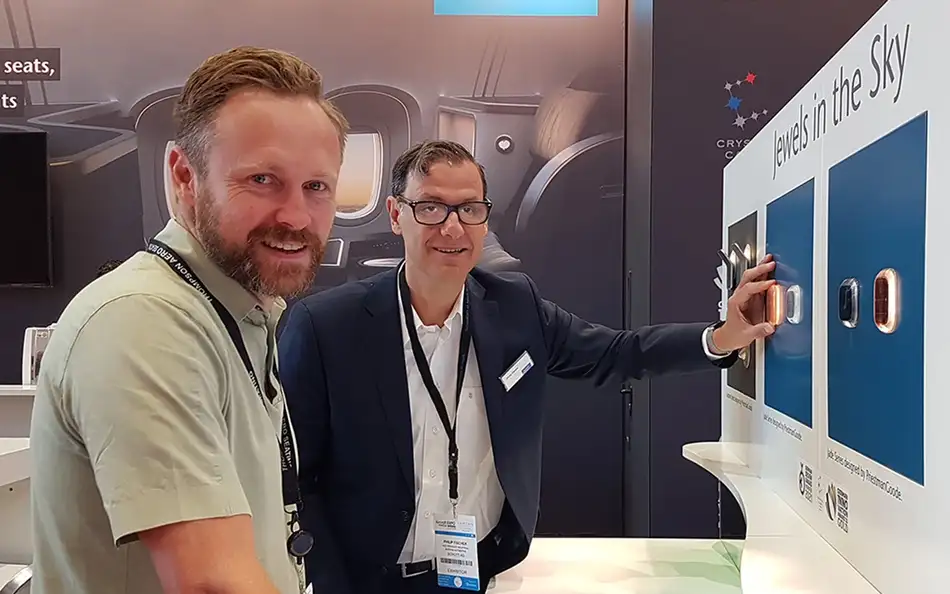 How do you develop the design of a product, and what was central to the Jade Reading Light?
Ben Rowan: Materials can inspire what we do and lead to a different way of approaching a problem. In the case of SCHOTT, we used their expertise in glass to develop something new and interesting. The Jade project developed as a collaboration, with all parties working together to bring their expertise and innovation to inspire the development and create something special.

Passengers on long-haul flights spend a lot of time in one place, so it's important that the objects close to them are of the highest quality. That's why, for this product to be successful, it's important that we work together to ensure every detail is correct.
What is your opinion on the idea that "design meets functionality" in a product like Jade?
Ben Rowan: It's always a balance, and considering this right from the beginning is how a product of this type can be successful. If you were purely led by aesthetics, without consideration of how the passenger is going to interact with the reading light, then ultimately the passenger experience is going to be affected.

Philip Fischer: We worked on both aspects at the same time right from the beginning, combining unique functionality with aesthetic design. Even now, our customers have the option to choose from different functionalities as the light is pretty flexible. It comes with a simple on/off button for the ambient and reading light, up to the ability to personally manipulate light direction and intensity.
Jade was developed before the pandemic, so how does it meet the current requirements of air travel?
Ben Rowan: Airlines appreciate products that are easy to clean and low maintenance, and Jade fulfills both.

Philip Fischer: In hindsight, it is a perfect fit, and you also save a lot of time when cleaning it. As it is made of glass, it is absolutely robust for all different kinds of cleaners, so it perfectly meets the new pandemic-driven requirement for bacteria- and virus-free surfaces. Furthermore, it's a very rigid product and doesn't scratch or break.
How will you evolve the product?
Philip Fischer: The next step is to think about a functional coating on the glass surface – for example an anti-bacterial or anti-fingerprint coating. SCHOTT has expertise in such coatings within the company so we would be able to develop such a solution in-house.
How does light help to create a sense of space on board?
Ben Rowan: In the design of every passenger class, a main driver is efficiency of space, which poses a big challenge to us as designers. Products such as Jade, which are super-efficient on space, are a great fit. Let's look at premium economy, for example, where space is very scarce. Anything that can be done to elevate the passenger's experience on board is highly welcome, and lighting plays a massive role in this. In contrast to the global illumination of the cabin, a passenger can actually control the seat lighting and define how they want to use it in their personal space.

As with everything within the passenger cabin, space efficiency is at the heart of it and was a starting point for the development of the Jade light. The team set themselves an ambitious target at the outset to ensure the product could be applicable to all premium classes of travel, keeping the market as broad as possible.

Philip Fischer: Additionally, ambient lighting solutions such as LED strips and sidelights can be used to further demarcate the private space of a passenger.
What other role can light play on board an aircraft?
Ben Rowan: Considering the time that airlines spend developing materials, they are not often shown to the best of their ability; cabin lighting can create a flat appearance. Using lighting in a clever way within the suite can help to enhance the materials used, which ultimately enhances the passenger's experience and the perception of the brand.


Text: Dr. Haike Frank, SCHOTT

August 17, 2022
Links