BOXMARK Leather: How leather and light bring innovation to airplanes
The Austrian company BOXMARK Leather focuses on sustainable innovation and places socio-ecological aspects at the center of its product and technology developments. As a leading global leather manufacturer for the automotive industry, the company continues to expand its footprint in the aviation industry. In this interview, Managing Director Marjan Trobis talks about why leather has great potential in terms of sustainability, how BOXMARK brings exclusivity to the aviation industry, and what links his company to James Bond.

Marjan Trobis joined BOXMARK Leather as Managing Director in 2009. Born in Slovenia, he emigrated to Germany with his parents as a small child, where he lived and worked for more than 30 years until he graduated in business administration. His professional career took him, among others, to Croatia and Hungary on behalf of a Swiss corporation, before he moved to BOXMARK Leather. In addition to taking over the management of the company, he was also involved in the expansion of the development site in Slovenia. Living in Slovenia again, he was elected President of the Employers' Association of Slovenia in 2016.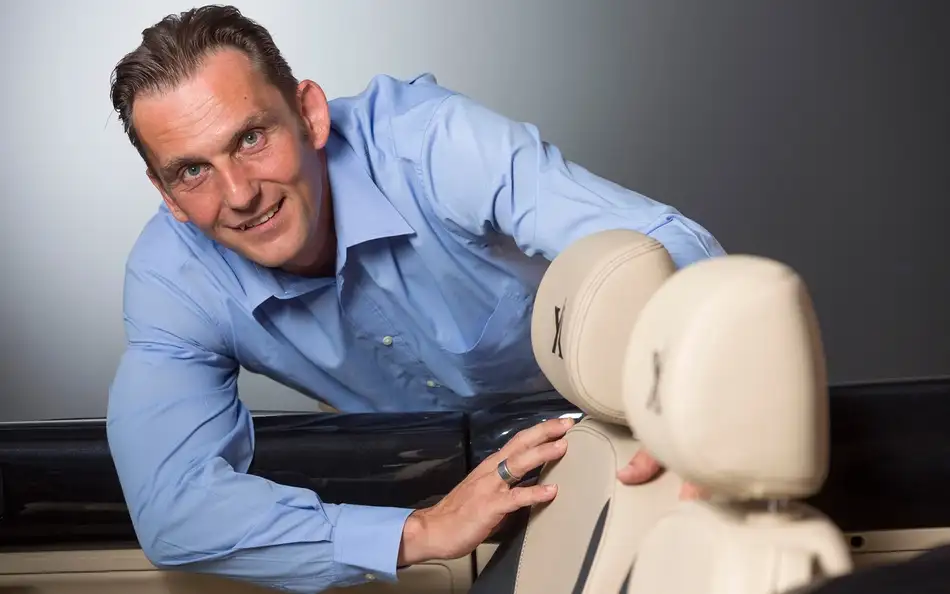 Please introduce BOXMARK Leather!
BOXMARK is a medium-sized, Austrian company from Styria which originated as a family business and looks back on a history of almost 250 years. In the 19th century, we were the leather court supplier of the Austro-Hungarian monarchy. Since 2000, we have been challenged more and more by the automotive industry.

Today, we are one of the three leading leather manufacturers worldwide who supply the premium brands of the automotive industry. We are a regular supplier to Audi, Bentley, BMW, Mercedes and Porsche, among others. This was the basis for our brand expansion already throughout the 20th century and is the reason why we enjoy a great reputation in the industry still today.

In 2010, we established a research and development center in Slovenia to address the latest challenges, not only in manufacturing, but also in development. We have succeeded well in this, as the trim materials of numerous current car models were created in our center. As a result, we are regarded as a strong player in the market, from the conceptual idea and prototype construction all the way to serial production with our own materials. In recent years, we have been able to expand our know-how from automotive to the private industry, railroad, marine and aviation sectors.

Especially in the aviation sector, we have recently achieved above-average growth at our plant in Slovenia. We have also experienced healthy growth during the COVID pandemic thanks to our focus on developing new materials in combination and composition.
What impulses have you given to the aviation sector?
In the past, the aviation sector has been neglected in terms of general design, seat design and passenger comfort, especially compared to the automotive sector. Many of us know that it makes a difference whether you sit on a comfortable car seat in a sports car or on a firm seat in business or economy class. That's why we set ourselves the goal of offering our material library and experience to the aviation industry. The industry could thus skip the development phase and benefit directly from our knowledge. Together with our project partner Vanema, we have achieved lightness and comfort for the aircraft seat with new foams. In 2017, we won the Crystal Cabin Award for this development.
What innovations for the aviation industry are you currently working on?
There is still a lot of potential when it comes to lighting effects, especially on long-haul flights. "Innovation Lighting" helps to brighten up the atmosphere on board. I saw our opportunity to set new impulses around lighting solutions in combination with the natural product leather instead of plastic. I am convinced that we will be well received in the market because our innovation offers significantly more added value at a fairly low additional cost. We have been working together with SCHOTT in this topic since last year.
Our first project involves embedding the Star Ceiling in a panel or wall covering made of leather. After only one year of focussed development, we are able to exhibit this innovation at the Aircraft Interiors Expo in June 2023. This also includes the leather-based Opal Reading Light from SCHOTT.
This is truly a very special collaboration between two companies that have successfully come together even though their focus is not at all similar. Such syntheses have not been properly exploited in the past; there lies a great deal of potential for the future.
Charm meets durability: cabin interiors for the aircraft industry must be particularly durable and comfortable. To meet the very high international aviation safety requirements, the use of flame retardants for interior materials is mandatory. BOXMARK is one of the few suppliers of flame retardant treated leather.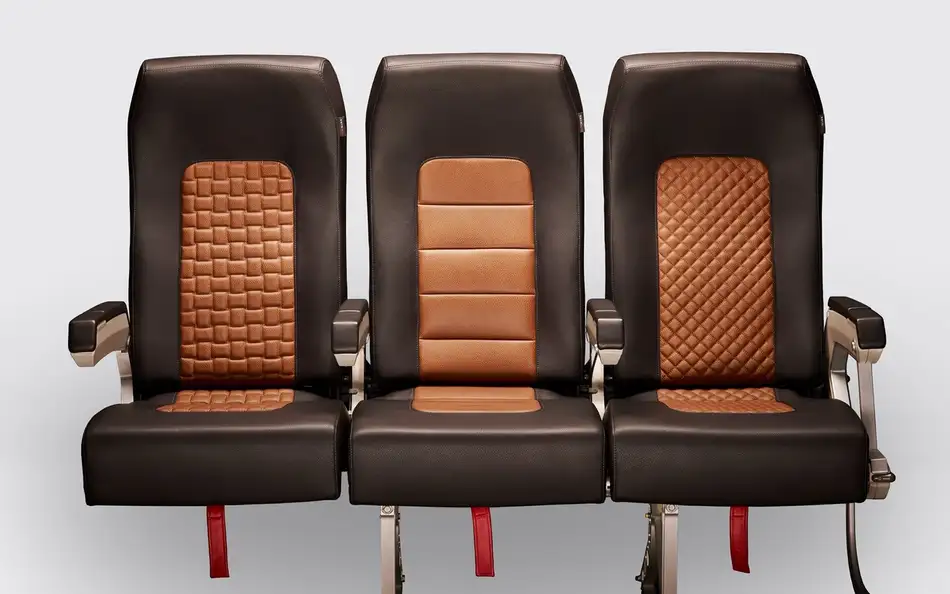 You are focused on sustainability. How does this help you influence the aviation industry?
Sustainability is already a number one issue in the aerospace industry, but also in the automotive sector. We use leather, which is a by-product of our meat consumption. This means that we are already almost climate-neutral, since we use a natural product with a small CO2 surcharge only, for transport costs and further processing. This is not possible for manufacturers of synthetic materials, as they use a lot of CO2 for production. Even more important is the fact that natural products do not constitute hazardous waste at the end of their life cycle, but decompose like compost. This is where we have a big advantage with leather.
We want to become climate-neutral by 2035. That's why we are already working on bringing sustainable leather innovations to production maturity. For example, we do not use chrome but rely on natural tanning agents such as leaves or herbs from trees and plants that are produced during harvesting and were previously composted.

We have already won a project with a Five-Star airline with our sustainable, resistant materials. They want to bring more exclusivity to their business class segment and stand out from their competition by not using synthetic materials. For us, this is a success story that proves that we are on the right track.
Last but not least, in which prominent applications can we admire your products?
There are some exciting stories to tell. We recently equipped the Austrian Parliament with seats upholstered by us, and people also take their seats in the Milan Opera House on leather from BOXMARK. Pope John Paul II rode in his Popemobile on our Smart Leather, as did Formula One driver Michael Schumacher during his time at Ferrari. We also appear on the big movie screen: in several James Bond films, the hero drives his Aston Martin, sitting on seats equipped with BOXMARK's leather.
Text: Dr. Haike Frank, SCHOTT
Photos: BOXMARK Leather

April 2023
Links
More information on BOXMARK Leather
Learn more about the Opal Reading Light Series from SCHOTT