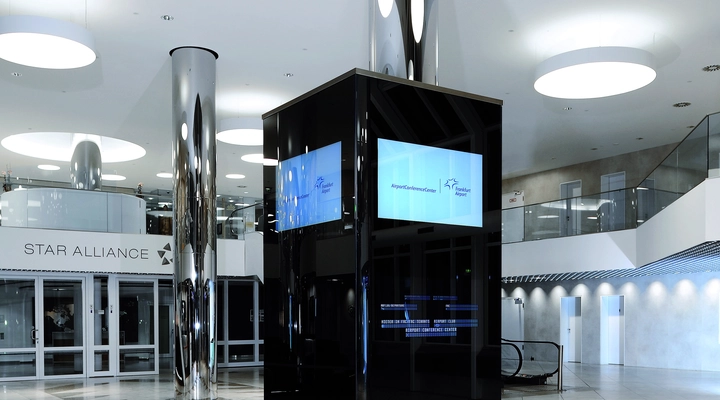 Airport Media Column, Germany
Frankfurt Airport Center (FAC) is a busy office and conference complex, which required a complex information display to help travelers find their way around. Using SCHOTT MIRONA® glass, the navigation system complemented the sleek design of the building while providing robust security and impact protection.
11.14 mm
thick panels of SCHOTT MIRONA® glass make the media column robust and scratch-resistant.
200 kg
weight on the hinges of the inspection door of the media column.
3,180 x 1,770 mm
size of the largest standard panel of SCHOTT MIRONA®.
70 million
passengers use Frankfurt Airport every year.
Background
Frankfurt Airport Center (FAC) is an exclusive office and conference space located within one of the world's busiest transport hubs, with a heavy flow of visitors, employees and delegates coming through its doors every day. Yet the sheer size of the complex and diverse array of services offered meant that visitors – many of whom had flown in from other countries and regions – could easily become disoriented. An efficient and sophisticated navigation system was required, which would blend into the FAC's extensive renovation, both esthetically and practically. SCHOTT MIRONA® glass displays would play a key role in achieving this.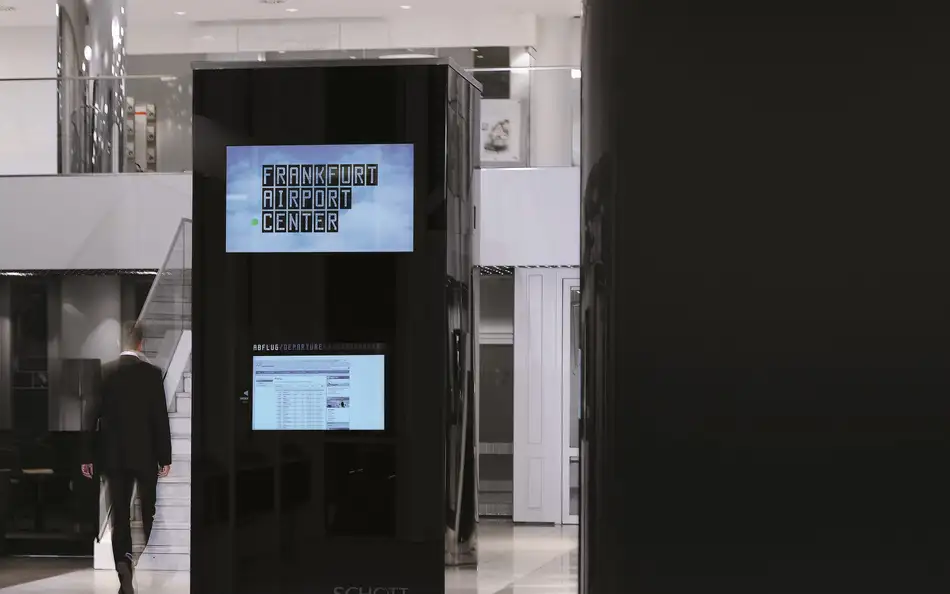 Task
The FAC wanted their new navigation system to consist of several elements installed at various points around the building. Most important would be a free-standing information terminal at a central location, with four other displays mounted to the walls. An eye-catching and unusual design was essential, particularly for the central terminal, so that visitors would be drawn to it and be quickly informed and directed. A sturdy design was another must-have – being part of the airport meant there would be a very large amount of people passing the displays, and the risk of damage from suitcases or other impacts was considerable.
Solution
The design agreed upon for the main information terminal was a large glass cube. This would look imposing and elegant enough in its own right, but it would also display multimedia elements. SCHOTT's unique semi-transparent MIRONA® glass was chosen to display images and text, and since the edges and panes of the monitors remain invisible, the image would appear to "float" on the surface while the technical inner workings remained concealed behind the glass surface. Meanwhile, effective yet invisible impact protection was offered by the strong mechanical resistance properties of MIRONA®.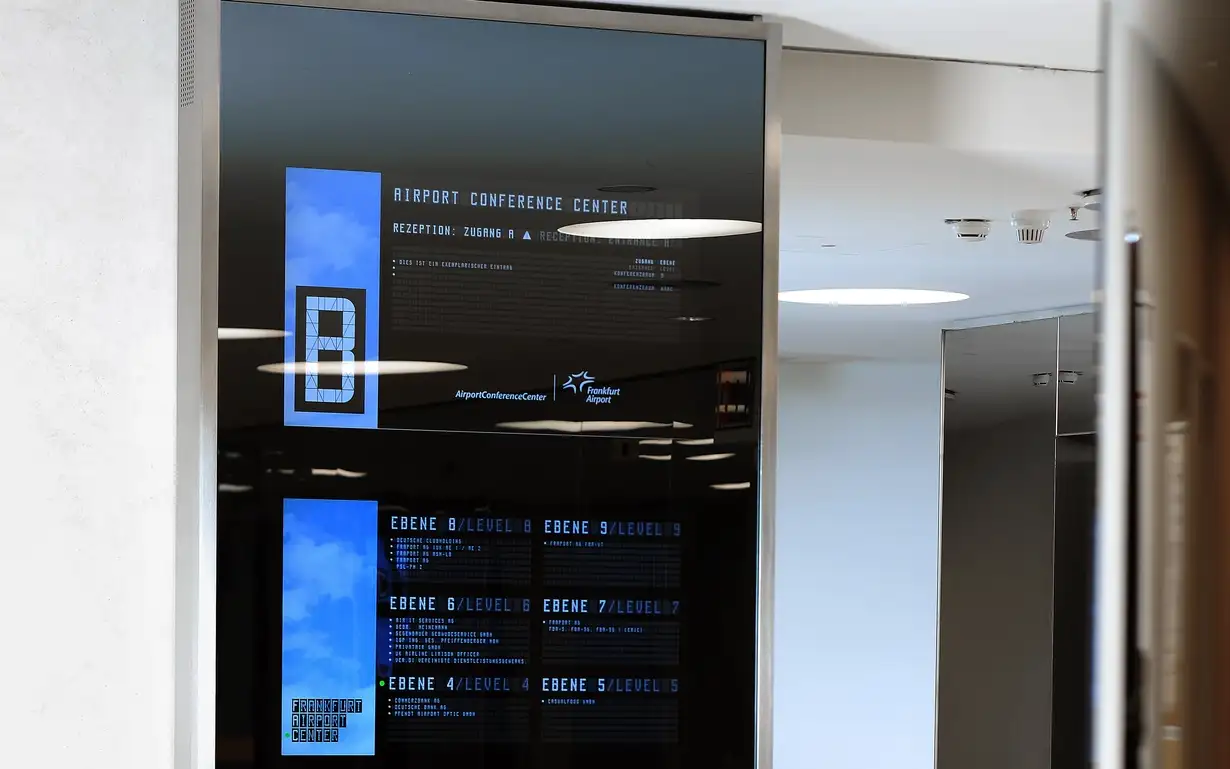 Innovative "intelligent" glass
SCHOTT MIRONA® is often referred to as an "intelligent" glass because it reacts to its surroundings. When the space behind the glass is dark, MIRONA® mirrors much of the light in front of it. Light from behind, however, transforms it into a transparent window, allowing text and images to be displayed on the glass. This is made possible by SCHOTT's advanced sol-gel dipping process, immersing the glass in metal oxide solutions and burning in interference layers, altering the behavior of radiation on the glass.
Imposing yet effective
The media column at the Frankfurt Airport Center grabs the attention not just with its imposing size and central position, but also by the nature of the communications it conveys. Since the surface and edges of the glass are virtually invisible, certain light conditions enable the glass to become transparent, with text and images appearing to "float" just under the surface of the cube. Yet while the glass can appear to be barely there, it is in fact thick, impact-resistant, resistant to abrasions and scratches, and easy to clean, making it ideal for the constant hustle and bustle of a major transport hub.
Used materials & similar products
SCHOTT MIRONA® is widely used in multimedia screens and interior design all over the world, offering the ability to switch from reflective glass to transparent window using carefully directed light. Its unique range of properties comes from a proprietary processing technique that produces an optical interference layer that provides both defined transmission and reflection. Other properties include high resistance to abrasion and chemicals, flexibility, and an easy-clean surface.