Next-generation kitchen icon: CERAN Luminoir™ and Miradur® featured in new premium range from Miele
Wednesday 31 August 2022 , Mainz , Germany
Miele is the first brand to use CERAN Luminoir™ and CERAN Miradur® in its new DiamondFinish
CERAN Miradur® provides improved scratch resistance, Luminoir™ makes light solutions in cooktops more brilliant
Miele DiamondFinish will be on display at the upcoming IFA trade show in Berlin, Germany and will be available at retailers starting December 2022
The recently introduced SCHOTT glass-ceramic CERAN Luminoir™ could revolutionize the cooking experience once again. Thanks to a new material formula, even brighter and more colorful light features are possible in cooktops, making cooking smarter and more exciting. At the upcoming IFA trade show, household appliance manufacturer Miele will showcase the innovation in its full-surface induction cooktop with DiamondFinish and high-resolution white control elements. The cooktops have an elegant design and are durable. This is enabled by the scratch-resistant coating SCHOTT CERAN Miradur®, which is almost as hard as a diamond.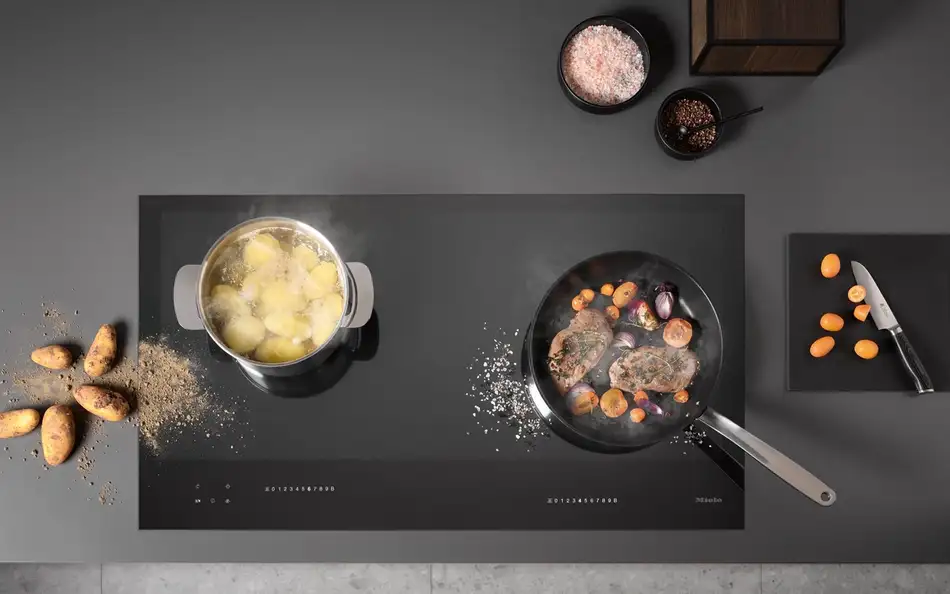 CERAN Luminoir™ is significantly more translucent than previous glass-ceramics. In particular, white and blue light penetrate the material more brightly, clearly and true-to-color. This even applies to diffuse light or color gradients. At the same time, the built-in cooktop looks black and elegant at any time of the day. "Until now, red light has been used primarily in the cooking zone area and also in digital displays of cooktops. Now the trend is moving towards white – brighter and also multi-colored light features will play a greater role in the cooking experience in the future," explains Dr. Jörn Besinger, Head of Product Management & New Business Development at SCHOTT CERAN®. The glass-ceramic from SCHOTT, which recently received the iF Design Award 2022, creates almost endless possibilities in product and light design and thus important unique selling points for manufacturers of household appliances.
The experts at SCHOTT developed the CERAN Miradur® coating to ensure that the glass-ceramic will continue to inspire customers for a long time to come. It achieves a value of approximately 9.5 on the Mohs scale of hardness and thus comes close to the maximum value of 10, which describes the scratch hardness of a diamond. Whether it's grains of salt, sand or passionately swirled pans, scratches can quickly occur during cooking. "If the surface of the glass-ceramic is damaged, such marks can no longer be completely removed," says Besinger. CERAN Miradur® ensures that the vast majority of them do not occur in the first place.
As beautiful and robust as a diamond
Premium household appliance manufacturer Miele is now venturing into the cooktop of the future. The new full-surface induction cooktops with DiamondFinish impress with their elegant design and promise long-lasting beauty thanks to their scratch-resistant surface. In this way, Miele is clearly demonstrating which kitchen designs will be in vogue in the coming years. "Scratches on the cooktop are annoying. They can occur quickly when moving pots and pans on our full-surface induction cooktops. That's why the extremely hard DiamondFinish coating is an excellent finish for our top models," says Till Deutschmann, Head of Category Marketing Hobs & Hoods at Miele. DiamondFinish is exhibited for the first time at IFA in Berlin, Germany, Hall 2.1, Booth 101.
Kitchen icon for 51 years
For half a century, the engineers at SCHOTT have been working together with strong partners on the cooktop of the future. Glass-ceramic is a key component in this process. Since the introduction of SCHOTT CERAN® in 1971, black glass-ceramic has established itself in the market and has become the standard material for induction and electric cooktops in modern kitchens worldwide. Since then, SCHOTT has sold more than 200 million cooktops around the world. In 2022, CERAN® was named Brand of the Century for the fourth time.
Links:
More about SCHOTT CERAN®
Trademarks:
SCHOTT CERAN® is a registered trademark of SCHOTT AG.
Pioneering – responsibly – together
These attributes characterize SCHOTT as a manufacturer of high-tech materials based on specialty glass. Founder Otto Schott is considered its inventor and became the pioneer of an entire industry.Always opening up new markets and applications with a pioneering spirit and passion – this is what has driven the #glasslovers at SCHOTT for more than 130 years. Represented in 34 countries, the company is a highly skilled partner for high-tech industries: Healthcare, Home Appliances & Living, Consumer Electronics, Semiconductors & Datacom, Optics, Industry & Energy, Automotive, Astronomy & Aerospace. In the fiscal year 2021, its 17,300 employees generated sales of 2.5 billion euros. SCHOTT AG is owned by the Carl Zeiss Foundation, one of the oldest foundations in Germany. It uses the Group's dividends to promote science. As a foundation company, SCHOTT has anchored responsibility for employees, society and the environment deeply in its DNA. The goal is to become a climate-neutral company by 2030.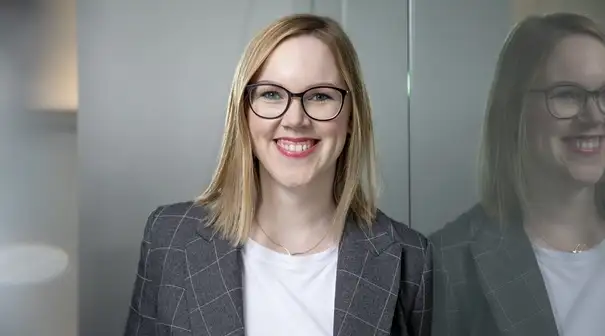 Lea Kaiser
PR & Communications Manager