SCHOTT® Opal Cover: Haptic and visual luxury
At Aircraft Interior's Expo 2023 in Hamburg, the SCHOTT Aviation team met with the designers from PriestmanGoode to reflect on the Opal Cover Reading Light – a joint development to bring haptic and visual luxury to reading lights. In this interview, the experts talk about how Opal Cover meets the needs of airlines and passengers alike.
Ben Rowan, Director at PriestmanGoode, and Philip Fischer, Vice President SCHOTT Aviation, Automotive, Industrial, inspect the Opal Reading Light at SCHOTT's booth at Aircraft Interiors Expo 2023.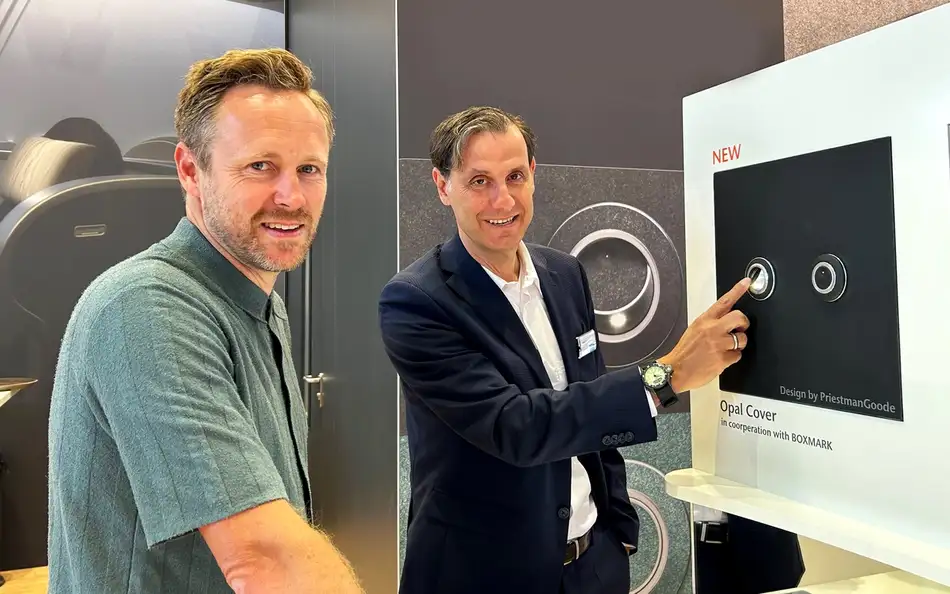 How did you perceive the aviation industry at Aircraft Interiors Expo 2023?
Philip Fischer: The industry is definitely back after COVID. This was clearly noticeable at the trade show, and we have been seeing it in our regular customer relationships, too. Airlines are investing into their fleets again and are introducing their next travel classes on board, such as a luxury business class besides the "standard" business class. Business is picking up again which is great news for all of us.
What trends do you currently see in the cabin interior lighting scene?
Ben Rowan: I see a blurring of the line between the overall cabin lighting and the individual seat lighting as the cabin environment is becoming one. Lighting scenarios link everything together in harmony, from the seats in the suite and the galleys to the whole cabin. While lighting concepts become more sophisticated, it makes for a much more unified impression on the passengers which is really nice.
How do you evaluate the Opal Cover Reading Light?
Ben Rowan: Airlines are always trying to customize and make their own unique statement. While a reading light is not about making a massive statement, it does make a subtle statement and expresses the way an airline thinks and presents itself. The beauty of the Opal Cover light is that with a simple change of the cover material from metal to leather or fabric, airlines can customize it quickly without having the hassle of re-qualification.

Philip Fischer: Airlines also like easy integration which we already fulfill with our Opal Reading Light Series. With our new Opal Cover variant, the light remains completely integrated into the seat, but now it is slightly emphasized as an additional and functional component. It does not only fit well into the overall seat design, but is even included in the entire cabin design concept.
Why is leather an interesting material for the aviation industry?
Ben Rowan: Many people reference leather and luxury, and leather represents a natural translation across aviation interiors. The flexibility it offers with textures and colors is pretty endless and therefore it offers a really interesting opportunity not only for the airlines to differentiate, but also for us designers.

Philip Fischer: New cover materials such as leather are not only an eye-catcher, but also give the passenger a high-quality haptic impression. That is why we are partnering with the renowned Austrian leather manufacturer BOXMARK Leather to bring leather and light into the seat and cabin.
Text: Dr. Haike Frank, SCHOTT
June 2023
Links
Learn more about the Opal Reading Light Series from SCHOTT