Xensation® Flex
Back in 1884, Otto Schott invented specialty glass and founded SCHOTT as a technology company. What if someone told him that over 130 years later, his company would completely change the perception of glass as a rigid and heavy material? However unthinkable, today – the future is finally here. With ultra-thin, ultra-flexible Xensation® Flex.
Challenge
Smartphone manufacturers never stop improving and changing mobile displays in order to compete in the ever-evolving smartphone market. Foldable or flexible glass displays, with revolutionary form factors and superior transparency, are said to be "the next big thing" in Consumer Electronics. For a premium and high-end appeal, a flexible cover glass is the material of choice.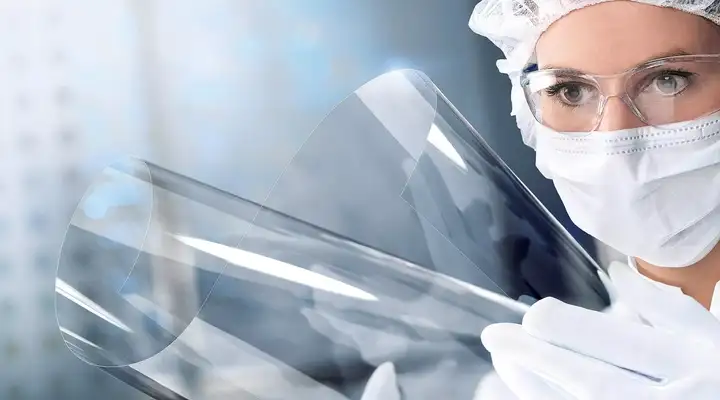 Enabling the foldable glass revolution
SCHOTT has been producing ultra-thin glass for more than 60 years. With Xensation® Flex, the "ultra-thin glass powerhouse" has now introduced the first ultra-thin glass (SCHOTT UTG®) product with the ability to be chemically strengthened. It is enabling what was once a key technical barrier for foldable displays.
A glass innovation
What was once believed to be impossible is now possible: an extremely small bending radius less than 1 millimeter (mm) after processing.
A glass that can bend more than 300,000 times
A glass that can bend more than 300,000 times

Find out more about SCHOTT Xensation® Flex ultra-thin glass

SCHOTT Xensation® Flex with a bending radius of less than 2 mm after processing

SCHOTT Xensation® Flex in a bending machine to demonstrate its unbelievable flexibility
Flexible, bendable glass is reality
More flexible than the limits of your imagination. With thicknesses below 100 micrometers, SCHOTT is creating a new generation of ultra-thin glass (SCHOTT UTG®) that is ideally suited for integration into all kinds of devices, thanks to their ability to be flexible or chemically strengthened, or both. In this way, SCHOTT is paving the way for unprecedented device designs – be it as foldable displays, components in mobile cameras or a completely new product groups: ultra-thin glass is what makes innovations in the area of consumer electronics possible in the first place.
The smallest bending radii that make ultra-thin glass beyond the 100 micrometer mark possible are particularly breathtaking. For example, the embedded video indicates the latest generation of flexible SCHOTT glass that can be bent to a radius of less than 1 millimeter.
We are certain that there is even more to it. Not least thanks to the glass-making heroes at SCHOTT who reinvent our beloved material glass every day. Building on a company history of over 135 years, which is still part of our DNA today.
Performance advantages of Xensation® Flex
Tiny radius
A bending radius less than 1 mm after processing.
Ultra-thin
Thinner than a human hair, making the screen extremely flexible.
Chemically strengthened
The ability to be chemically strengthened.
High transparency
In every sense and for many applications.
Mass production
Available in mass production.