Trice Medical: Advancing minimally-invasive orthopedic diagnostics
The advancement of instant orthopedic diagnostics and therapies will revolutionize patient care.

Trice Medical's mission is to provide more immediate and definitive patient care by revolutionizing in-office procedures. Founded in 2012 around the challenge to fundamentally improve orthopedic diagnostics, Trice has pioneered fully integrated camera-enabled technologies that provide a clinical solution that is optimized for the physician's office. The company is headquartered in Malvern, Pennsylvania.

Trice Medical's CEO and President Mark Foster has a broad background in the healthcare, medical device, and pharmaceutical industries. In this interview, he shares his insights on the future of patient care, improving user experience and the role of optics and visualization.
Mark Foster is an experienced professional with twenty years of progressively increasing responsibility in the medical device industry. He joined Trice in 2016, serving as VP of Global Sales and CCO and was promoted to President in March 2018. He was appointed President and Chief Executive Officer, effective June 30, 2019. Prior to coming to Trice, Mark served as VP of US Business for Smith and Nephew and in several leadership roles at Boston Scientific. Mark enjoys developing talent, building teams and solving problems.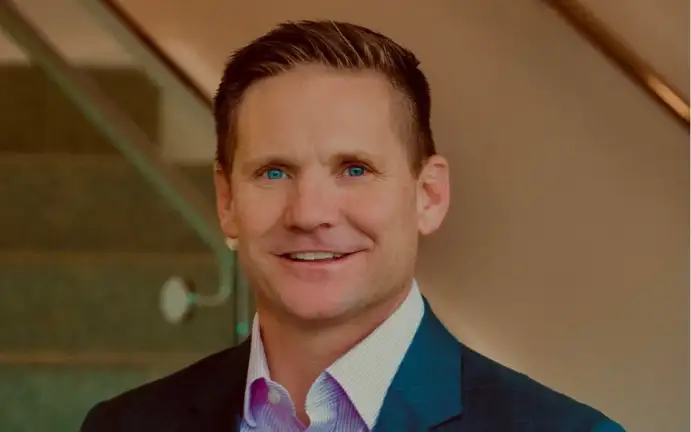 Trice Medical's foundation goes back to minimally invasive sports orthopedics. Please explain!
The business was started with the concept of delivering instant information to patients. The idea of having a needle with eyes at the end of it and a tablet to look into a joint came from our customers – physicians. As surgeons, they wanted to get their "eye" on the pathology directly because they felt it was the most effective way to see what's really happening. Hence the name, mi-eye. In the US, there are over 9 million MRIs per year for shoulder and knee pathology alone. So, being able to deliver instant information to concerned patients on their first office visit is valuable. The physician can give local anesthesia, insert a small needle into the joint, tell them what their pathology is, potentially be able to deliver biologics at that same point, and then get them on their way. That saves patients the time, energy and hassle of MRIs.
Does that mean that you will make MRIs obsolete?
No, not at all. The MRI is an amazing tool. We look at it like this: if you are an orthopedic surgeon, you need to have many tools in your bag. MRI, X-rays, ultrasounds are all important tools. However, there is definitely a place for looking intra-articularly in a joint as well. We are excited to see that surgeons are really adding our mi-eye 2® to their tool bag.
By focusing on the physician-patient-relationship, Trice Medical is revolutionizing the user experience for both sides. How so?
The patients love getting instant information, especially in today's age. Our physicians have shown real interest in our technology, even more so since the breakout of COVID-19. One reason for this is the reduced diagnostic process, meaning fewer visits. The typical treatment pathway for a patient is to come into the office, have a physical exam, then take another day off from work get an MRI in another facility, and finally go back to the physician's office to have the MRI read. So we are saving a couple of office visits, including the time and energy spent there.
Your flagship product, the mi-eye 2®, is based on a tiny disposable camera. What potential do you see there?
In addition to the in-office opportunity that we have identified, we are focusing on the operating room market of small reusable cameras. So there are two markets for our tiny disposable cameras, as we see it. One is in the office diagnosing pathology and the other is treating pathology in the surgery centers and procedure rooms. The tiny size of these cameras enables physicians to deliver therapy under just local anesthetic, which could have some patient benefits. And, without having to sterilize the cameras, we have the potential to aid the facilities by making the procedures safer and more efficient.
Why are quality optics as enablers of direct visualization central to your business case?
We see the combination of optics with therapies. Today, the market consists of large companies that make reusable cameras. They have to design their products in such a way that they enable the use of large lumens. Next in line are the device companies that have to design the working channels around these reusable cameras. I see the integration of these elements in the future where we will have disposable optical instruments, marrying working tools with optics to perform therapeutic procedures, no longer having to rely on a separate device for each indication.
Trice Medical has a broad portfolio of products for minimally invasive diagnostic and therapeutic orthopedic procedures. The mi-eye 2® is Trice's imaging solution for use in diagnostic and operative arthroscopic and endoscopic procedures. This in-office handheld scope is FDA cleared and provides illumination and visualization of an interior cavity of the body through either a natural or surgical opening. The scope has a light source and camera that displays a clear image of the injury on a high definition Tablet display.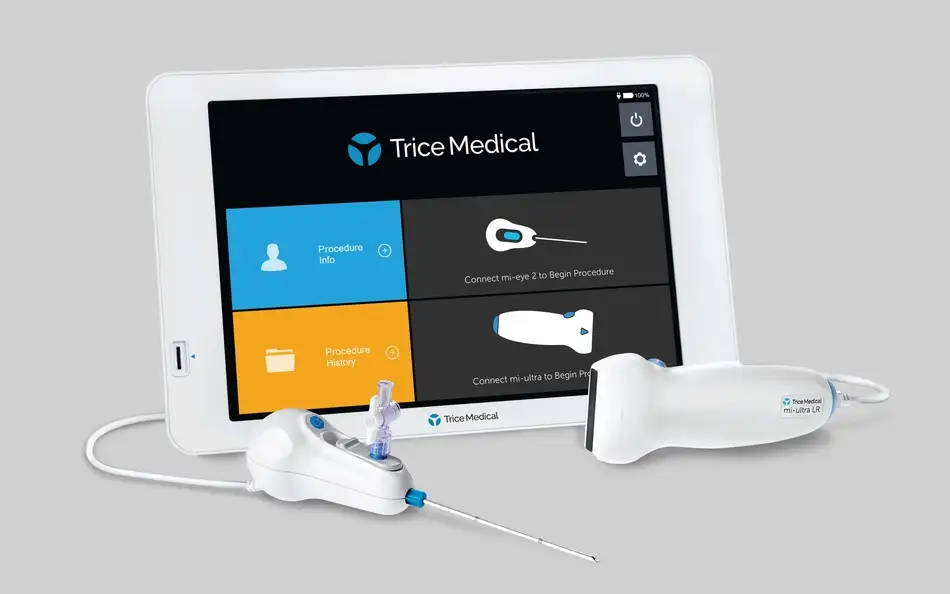 How do you see this market evolving?
We are at an interesting time, where the optics continue to get better and the costs continue to go down. So there will be a tipping point in the relatively near future where disposable optics are better than reusable ones. I can guarantee that the world is not going to go backwards towards reusable products. There are over 60 million endoscopic procedures in the US every year that use some sort of optics, ranging from men's and women's health to treatments of the airways. That market is growing every year!
What roles do hot topics such as connectivity and data management play for Trice?
Well, it's not only about the optics! It's also about the integration of the user experience. We really pride ourselves on the connectivity of our system: when you plug in the camera and the ultrasound, it comes to life and it works simply. We spend a lot of time on software, mechanical, and electrical engineering to make the user experience a really good one. We want to see the integration of our systems into the EMR (electronic medical record) networks.

Our customers are used to having all the information in one place. There are big opportunities around data management as well as just-in-time inventory and measuring. There is so much you can do with the information so that it's not just a "dumb" camera. That is why we are continuously thinking ahead.
What other innovations are you working on?
A year ago, we acquired S.E.G-WAY™ Orthopedics, a company working on the carpal tunnel space. It fits well into our portfolio as we are looking at those small procedures that take longer to set up in the OR than they do to perform. An endoscopic carpal tunnel procedure takes about five minutes to perform, but can take 30-45 minutes to turn over the room. SEGWAY makes devices to treat those patients and we have now made all their systems disposable. So now, with just a portable tablet and two sterile boxes, you can perform the same treatment as you would have had to in an OR with a large arthroscopy tower and five staff. We are excited to find more procedures that we can make what we call "procedures in a box" and continue to advance that opportunity.
What are the biggest challenges for your business and how do you overcome them?
Because this market is still so new, our barriers today are market adoption and practice change more than actually advancing the technology. We need to get the people "on the bus" before we can start taking them to lots of different places. There is such an incredible market for disposable optics in small procedures that we are taking it one step at a time.

Another big challenge is hiring quality people and keeping, attracting and retaining engineering talent. Particularly in our geographical space, it seems like mechanical engineers are available more broadly, but finding good electrical and software engineers remains a challenge. It is an incredible opportunity for the young generation to graduate in those fields and make an instant impact. We are open to hiring engineering talents.
On a more personal note: you have a long track record of working for established players in the medical device industry. In what way does the challenge of a start-up company inspire you?
I have had the chance to work on some unique projects at my former employers so I got to know the medical device industry as a really interesting space. The reason why I joined a start-up was the chance to really build something, create a culture. I really enjoy solving puzzles and problems, so this to me is one massive opportunity: while applying optics across every different field of use out there – trying to find the right home, the right time and the right products to build a business.
Text: Dr. Haike Frank, SCHOTT
All photos: Trice Medical

November 25th, 2020