Glasses for Office Furniture
SCHOTT offers a range of glass products for offices, including desk dividers and partitions. Each come in a range of shapes, sizes, and thicknesses, as well as design options that include transparency and translucency, edging, color, and lamination for added safety.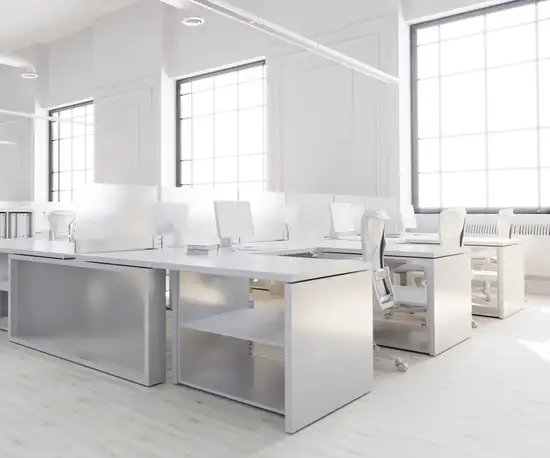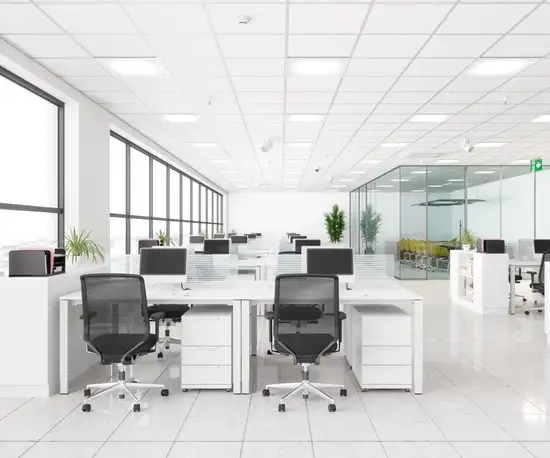 Glass desk dividers
The traditional way of dividing open plan offices into individual work stations is by using basic, opaque desk partitions. However, businesses are increasingly realizing that glass can create a far more inspiring and inclusive office environment.
CHARACTERISTICS
SCHOTT's glass products for desk dividers combine sound control with high light transmission to counteract any feelings of claustrophobia within confined individual work stations. Light flows through with a feeling of space and unity, while preserving privacy and hygiene standards. The option of different glass types, from the stylish and lightweight to laminated safety glass, all available in a wide choice of shapes and sizes, results in plenty of options for the office designer.

YOUR ADVANTAGES
Wide range of glass thicknesses available, from 3-10 mm.
Dimension flexibility, with lengths up to 3 m.
Tempered or laminated glass (safety glass).
Options such as satin effect, clear float or fluted decorative styles.
Edging tailored to your needs, including flat, polished, and rounded.
Transparency and translucency adaptable to privacy/visibility requirements.
Special effect printing.
Antimicrobial coating.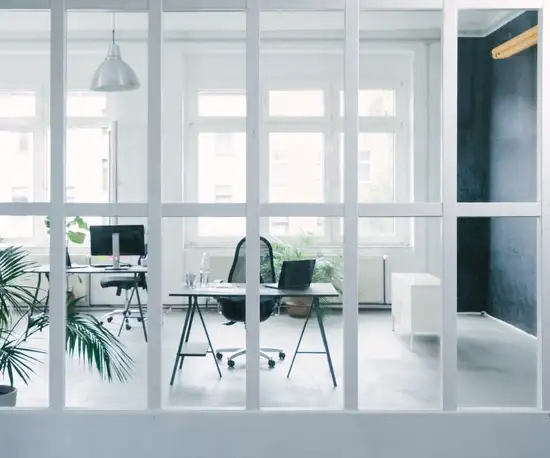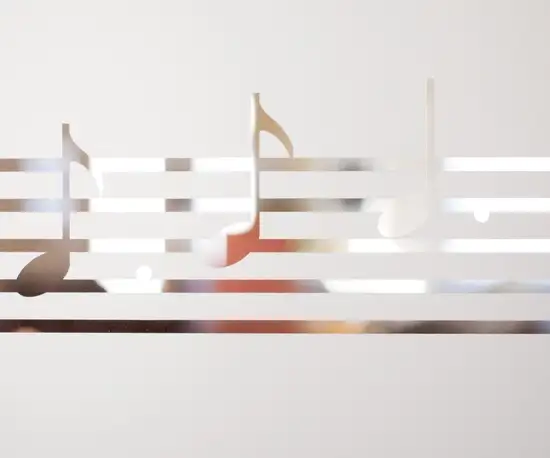 Glass partitions
In modern workspaces, the flow and control of natural light is an important consideration, while visibility and the feeling of space are prominent factors for businesses wanting to invest in the wellbeing of their staff.
CHARACTERISTICS
SCHOTT glass products have the technical versatility to meet a variety of needs without losing valuable light transmission. Our range of safety glasses offer the highest security standards while maintaining a clean, elegant look in the office environment. As well as a wide variety of sizes and thicknesses, dimensional tolerances and technical specifications are highly precise, meaning strong visibility works alongside mechanical strength. Color printing and customized processing options also add to your options.

YOUR ADVANTAGES
Large formats available in lengths up to 3 m and widths up to 2 m.
Glass thicknesses of 8-12 mm.
Dimension flexibility.
Very tight dimensional tolerances facilitate glass-to-glass bonding and frameless application.
Special effect glass printing in translucent colors available.
High visual quality with low distortion or waviness.